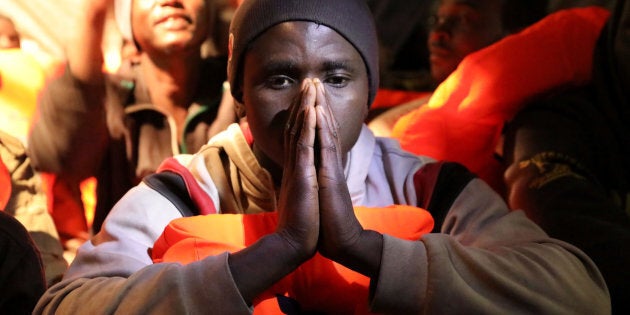 The stretch of sea between Libya and southern Italy continues to be a death trap for migrants and refugees in search of better lives in Europe. This winter has officially become the most deadly on record, even though the total number of people attempting to cross the Mediterranean Sea is down from previous years.
At least 1,354 migrants and refugees drowned between November 2016 and the end of January 2017 ― 1,191 of those were in the central Mediterranean, according to a UNICEF statement released Friday.
"This is almost 13 times the number of fatalities reported for this route over the same period in 2015-2016," the statement said. "With winter weather still gripping much of Europe, this route and others including from Egypt and elsewhere could become even more treacherous over the coming weeks."
Migrants and refugees are dying on land as well. Several migrants attempting to reach Greece via Turkey, including one who walked across a frozen river, have died of hypothermia in recent weeks. At least three refugees died in the Moria refugee camp, on Greece's Lesbos island, in just one week due to harsh winter conditions.
The tragic news is merely a continuation of a trend witnessed throughout 2016. Last year became the deadliest year overall for migrants, despite the fact that fewer people were migrating than in 2015.
European Union leaders agreed to continue efforts to tackle the problem on Friday during a meeting in Malta, namely through propping up Libya's defunct government, disrupting smuggler gangs based in Libya and sending people who do not qualify for asylum back to their home countries.