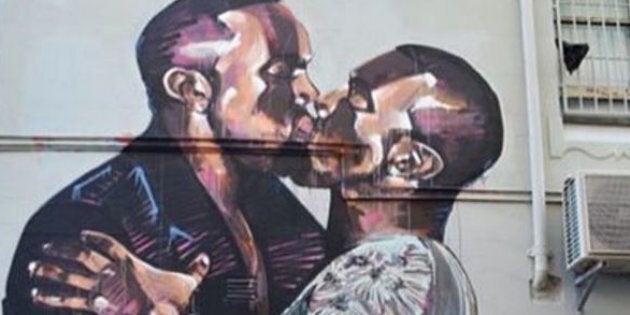 Sydney graffiti artist Scott Marsh has done it again.
After making headlines last year for his six-metre tall Kanye Loves Kanye mural in Chippendale, Marsh has revealed he was personally commissioned by The Weeknd to create a masterpiece of the singer's Rolling Stone cover.
In an Instagram post on Sunday, the street artist revealed his take on the magazine cover (both huge and framed) and wrote to Abel Tesfaye saying "glad this one finally made it to you mate".
Marsh has cemented himself in both pop culture and the political scene over the past year, after painting a mural of the former NSW Premier Mike Baird as 'Casino Mike'.
In the mural, which was painted amid controversy of Sydney's lockout laws, Baird was seen holding a stack of casino chips, a cigarette and a glass of red wine alongside a bottle of Penfold's Grange.
Following Baird's resignation in January, Marsh painted over the mural and posted a photo to Instagram with the caption 'Ciao'. Its not the first mural he's painted over, with Kanye West demanding his own mural by Marsh be removed.
Someone claiming to be from West's management offered the street artist $100,000 to remove it. Marsh responded by releasing a one-off buffed print edition of the mural, saying "if [Kanye] buys that print then I'll paint over the mural".
Marsh claimed it did sell, which saw the end of the Kanye Loves Kanye mural in Chippendale. Well, it's painted over in white now.
And now it appears the street artist has been promoted, getting personal commissions from singers instead of bribes.
ALSO ON HUFFPOST AUSTRALIA