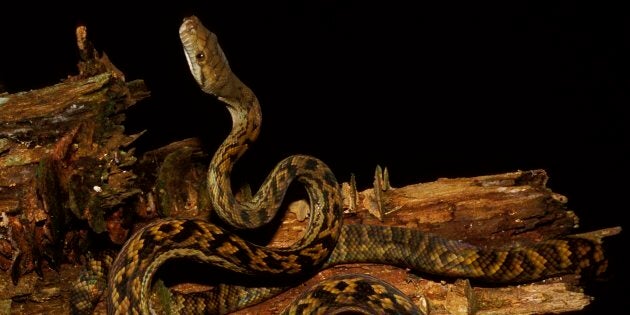 Batten down the hatches, folks, because snake experts are warning about a rise in python activity in Far North Queensland this wet season.
As monsoon rainfall hits the region, those slippery serpents of our nightmares are expected to travel indoors to escape the weather. And yes, we are serious.
"During wet conditions it is really important to keep all screens on doors and windows shut - particularly at night," Hagan said.
He posted this absolutely TERRIFYING video to Facebook of him releasing a scrub python caught in Speewah, a suburb located about a 45 minute drive from Cairns.
"Some scrub pythons get a bit bitey, but this one was as cool as a cucumber,'' Hagan told the Cairns Post. Totally not reassuring and it actually gets worse.
"He had a big head, and weighed about 23kg in total, you wouldn't want it latching onto you,'' he said.
Pointing out the obvious there.
In Australia, the scrub python also called 'morelia amethistina', is found in the tropical locations and mainly rainforest areas but they are known to make an appearance in suburbia.
"Habitat occurs in both bushland and suburbia. In Indonesia and northern tropical Queensland, Australia, it is found mostly in rainforest," Wildlife Currumbin Sanctuary explains about those terrifying creatures.
ALSO ON HUFFPOST AUSTRALIA