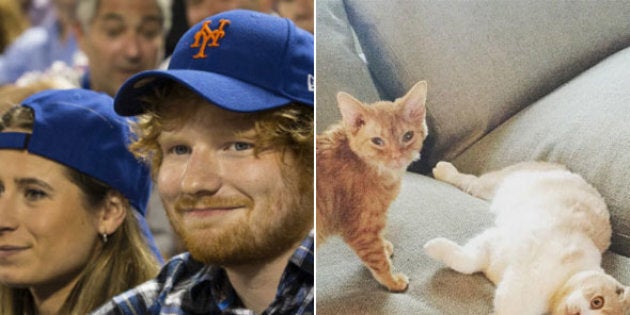 King of our Hearts, Ed Sheeran, is in Australia to promote his new album.
And in between performing live at Sydney Opera House and rebounding to number one on the charts, he spoke to TODAY about life, love and his cats.
The Brit superstar revealed toChannel 9's Dickie Wilkins that he's very happily dating his high school sweetheart, Cherry Seaborn, and that he's confident she's The One.
"This is actually the first time I've been away and I'm just chilled and nothing's going wrong, everything is great," Sheeran said.
His visit to Australia marks his first performance in over a year and explains right now, he's more grounded than ever.
"That part of your life [your relationship] should be the one that chills you out," Sheeran said.
"It definitely is like that, she just sends me videos of our cats and I'll finish interviews and go and watch our cats playing with a bit of paper or something [laughs]," Sheeran said.
The 25-year-old opened up about fame and how in the past he's struggled with anxiety.
"A lot of people around me started changing and then I became quite a paranoid and introverted person with a lot of anxiety issues, but I think it's kind of evened out a little bit now," Sheeran said.
Whether that's thanks to finding love, his feline friends, or just growing older, we're glad Sheeran's in a good place.
You're welcome back anytime, Ed and if New South Wales premier Gladys Berejiklian has anything to do it, we might just be seeing more of the 'Shape Of You' singer.
"He says he loves New South Wales so much he wants to become a citizen of the state," Berejiklian told Nova 96.9's Fitzy and Wippa.
"And so next time he is here I would like to present him with an official, even though we don't have official citizenships of New South Wales, I'm going to make an exception for Ed Sheeran."
Here's hoping he can bring the kitties, too.
ALSO ON HUFFPOST AUSTRALIA