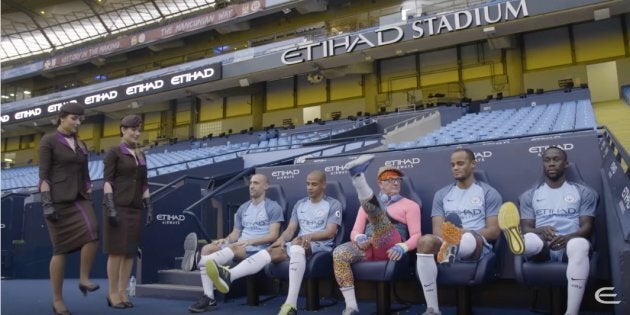 Whether you class yourself as a frequent flyer or not, we've all experienced those moments of discomfort at 40,000 feet in the middle of a long-haul flight.
It's the little pains, cramps and urges to fidget that sometimes make air travel unbearable.
But fear no more, the team over at Etihad Airways and some famous faces from the Manchester City team have your back. Or your shoulders. Or neck. Or maybe all of the above.
The international airline has released its new in-flight fitness video to keep you limber on those lengthy trips, fit with a football star-studded lineup of Pablo Zabaleta, Fernando, Vincent Kompany and Bacary Sagna.
And if football just isn't your thing -- Chappy the 'Legendary Kit Man' will help you laugh your way through the eight moves and positions to keep you nice and nimble.
The video premiered in-flight on Etihad Airways trips in February and includes exercises such as shoulder circles, waist rotations, neck rolls, ankle circles, arm and leg stretches, forward bends and a tip to stay hydrated.
If that doesn't get you wanting to jump on a plane as soon as you can, maybe the chance to watch other passengers squeeze themselves into those positions just might.