When it comes to unsolved child-murder cases, JonBenét Ramsey takes the cake for intrigue.
So really, it was only a matter of time before Netflix, the modern home of original true crime, landed the rights to Kitty Green's Sundance documentary 'Casting JonBenét'.
On Thursday, the streaming service confirmed a premiere date of April 28 in an eerily creepy clip of multiple JonBenéts 'auditioning' for the role of the mini American Beauty Queen.
'Hannah' tells the camera she's auditioning for the part of JonBenét before asking the camera guy, 'Do you know who killed JonBenét Ramsey?'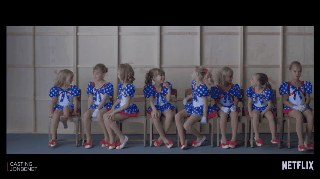 It's a fair question. And one we hope becomes clearer by the end of the doco, if only for our own sanity.
Entertainment Weekly reported the project was based around filmmakers travelling to the Ramsey family's hometown to see how the crime has impacted generations of parents and children.
According to the trailer blurb 'Casting JonBenét' "presents audiences with a hybrid of fiction and non-fiction filmmaking that examines the macabre legacy of this tiny starlet."
The teaser comes as Netflix announces its biggest and most diverse slate to date.
Binge-watchers can look forward to more than 1,000 hours of new series, films, stand-up specials and documentaries.
Get the popcorn at the ready, hibernation has already begun.
ALSO ON HUFFPOST AUSTRALIA