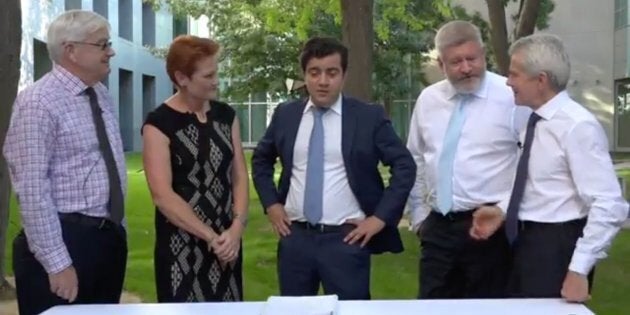 One Nation leader Pauline Hanson's is facing criticism over her praise of Vladimir Putin and her apparent nonchalance at Russia's alleged involvement in the deaths of 38 Australians and more than 200 others on board Malaysia airlines flight MH17.
Hanson and fellow One Nation senators invited Labor colleague Sam Dastyari on to One Nation's 'weekly catch-up' Facebook broadcast when the pair butted heads over the Russian president.
"What you said about Russia was so offensive, supporting Vladimir Putin with the victims of MH17..." Dastyari said.
Hanson interjected, saying she had said she liked him and thought he was a strong leader.
"You like him? You like him? What is there to like? He's a murderous tyrant," Dastyari replies, apparently backing away from Hanson.
Hanson responded in part: "You know everyone has done something."
"I am not saying I support him for what he has done there, but overall, as a person, who is strong and stands up for his country [I do support him]," she said.
At one point during the otherwise lighthearted video exchange (One Nation Senator Malcolm Roberts handed Dastyari a brown paper bag, har har) Roberts offered his own views on Russia.
"Sam, when you look at what the IMF did to Russia, crippled it in the late 1980s and the early 1990s, Putin is standing up to them and that is showing that he protects his people," Roberts said.
Prime Minister Malcolm Turnbull dismissed the praise on Friday.
"Vladimir Putin has invaded, or taken over, the Crimea from the Ukraine. His forces, backed by him or his government, downed MH17 and Australians were killed in that act of terrorism."
Labor Leader Bill Shorten tweeted his disapproval of Hanson's views on Friday.
"Murder can't be shrugged off," he said.
Some of Hanson's sentiments match those of U.S. President Donald Trump.
When Fox News host Bill O'Reilly called Putin "a killer" during an interview on the weekend, Trump responded "there are a lot of killers ... what, do you think our country's so innocent?"
ALSO ON HUFFPOST AUSTRALIA