The Australian Energy Market Operator (AEMO) is meeting on Friday afternoon to discuss the possibility of rolling blackouts across Sydney from 4 pm.
The technical term for this is "load shedding" -- a term which means switching off power supplies in certain areas to avoid system-wide failure.
"When there is a shortfall in the electricity supply, there can be a need to reduce demand very quickly to an acceptable level, known as load shedding, or risk the electricity network becoming unstable.

Load shedding arrangements vary from state to state, but the objective of rotational load shedding is to minimise the impact on any one group of customers. Sometimes rotational load shedding is not an option – for example, if the supply-demand balance changes rapidly, then load shedding can happen almost instantly.
Peak electricity demand in Sydney is expected from around 3:30 pm to 5:30 pm as temperatures peak around 40 in the city and in the low-to-mid 40s in the city's west. We'll keep you updated.
NSW and SA are heading into a prolonged heatwave, with anticipated blackouts and the worst fire day for the year expected on Sunday.
The Bureau of Meteorology has forecast temperatures of 45 degrees in Sydney's west on Saturday, while the centre of Sydney was expected to reach 39 degrees. But the most extreme temperatures are currently in central and lower western NSW.
Here are the Bureau of Meteorology's live "MetEye" temperatures for south-eastern Australia at 3:30 pm on Friday. Those 46 degree readings? One of them is in the town of Hay, which we mentioned in this piece earlier this week.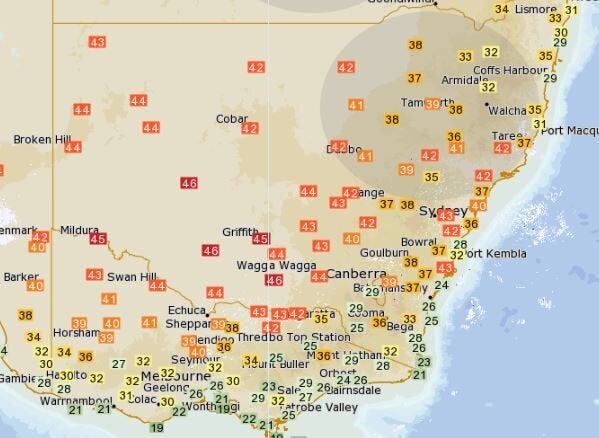 Hay has already reached its forecast top of 47 on Friday, but has now "cooled off" a degree. We'll keep you updated.
The extreme temperatures are the result of hot air trapped over the centre of the continent.
"This will lead to widespread severe heatwave conditions and locally extreme heatwave conditions along parts of the coast," Acting NSW Regional Director Stephen Lellyett said.
"Fire weather warnings are also likely during the weekend as the system will lead to increasing wind speeds in conjunction with the extremely hot temperatures.
"The forecast Catastrophic fire weather conditions on Sunday in the upper Hunter and fringes of adjoining districts are rare in NSW. Sunday is shaping up to be the worst fire weather day so far of the season."
In NSW, southern areas of the state were under a total fire ban on Friday, with this expected to be extended further across the state as temperatures rise in coming days.
NSW RFS Commissioner Shane Fitzsimmons said that based on latest forecasts, 'severe' and 'extreme fire dangers are expected across the state, and there is the potential for 'catastrophic' fire danger in the Hunter Valley region on Sunday.
"On Saturday, temperatures and winds will pick up, meaning an increased fire danger extending across much of the state.
"If you live in a fire prone area, use the time now to get ready. Do not leave it until it's too late."
Denis Walsh, State President St Vincent de Paul Society NSW, said the homeless were particularly vulnerable to the heat.
"Rough sleepers will find it hard to cool down, to access clean drinking water, and take a shower. Sleeping under a bridge or in a garage can be unbearable, with the added problem of mosquitoes.
"Our Night Patrol Vans make sure they have plenty of ice cold water for people to take away with them.
"We find more people come to our day centres where they can spend time in air conditioned buildings and have cold water to drink."
The City of Sydney's Chief Resilience Officer Beck Dawson said we need a greater level of planning and preparation to combat future heatwaves.
"Within the extreme weather category, heat impacts contribute to more deaths than bushfires, floods and storms combined. We classify heat as Sydney's silent killer.
"It sends more people to hospital than any other risk Sydney is threatened with yet doesn't seem to command the level of public concern that is should."