Tianli Zu describes herself as a contemporary artist "who happens to be Chinese".
"I don't draw the line in my practice -- contemporary art is just contemporary art. But of course, because of my background, there are elements that come naturally to me," Zu told The Huffington Post Australia.
I strongly believe that all I can do is make work. The work will speak for itself.
Born in Beijiing, Zu has absorbed art from a young age. Raised by her grandparents, who taught her traditional paper cutting and calligraphy, she began studying classical art at the age of 15.
Almost thirty years ago, she moved to Sydney to further her training and has since become an award-winning multimedia artist. But the road hasn't been easy.
"At the time, there were very few Chinese artists here and the Chinese culture was quite hidden. There are more opportunities these days to extend our traditions to the public," Zu said.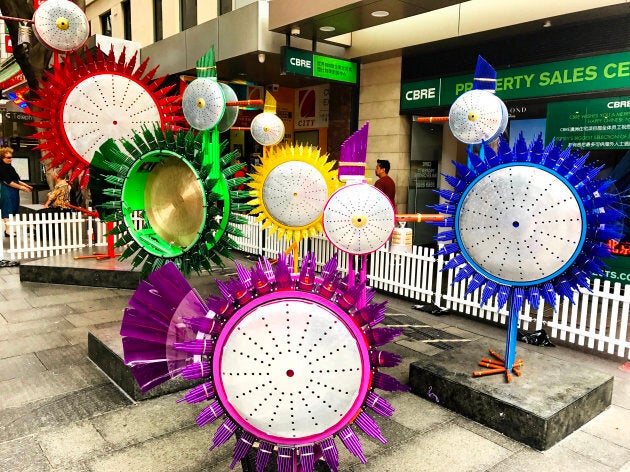 She is the artist behind the giant roosters that you may have visited -- or stumbled upon -- in Sydney's Chinatown as part of the City of Sydney's Lunar Lanterns exhibition.
Zu's installation features five large-scale rooster sculptures inspired by her daughter Alice, who was born in the Year of the Rooster.
The work imitates traditional Chinese musical instruments and implements the five-note pentatonic scale. Each rooster is constructed using a gong, cymbal, wooden block and bell -- among other instruments.
"These instruments are an extension of Chinese tradition and incorporate the five elements -- metal, earth, air, fire and wood -- to represent the fullness of life," Zu said. "This is an optimistic work, arising from the characteristics of the rooster, and particularly as we move through a harsh and disturbing period, it is an important message."
I like to extend Chinese traditions -- not leave them stationary.
The work also features a soundtrack composed by Zu's son, Andrew.
"It is based on western orchestral music, but it is very much aligned with Chinese traditional music," Zu said.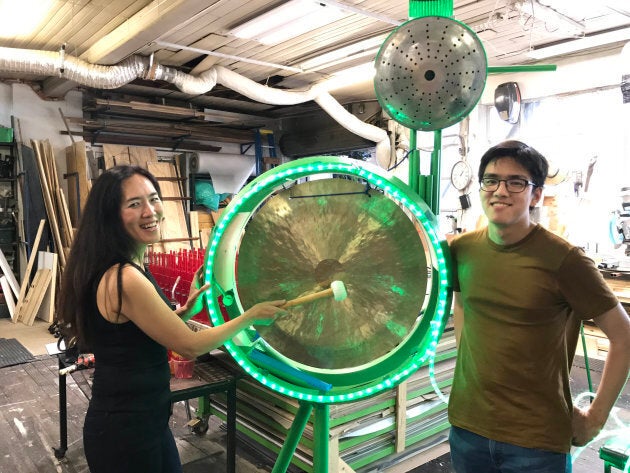 "To me, my responsibility is bringing something to the public and spreading our traditions in a way that they can relate to and be part of. My work needs to draw history to the present."
As the celebration draws to a close on Sunday, Zu said she has been excited by the response.
"People have come prepared in their minds to see something Chinese... But broadly speaking, there are more opportunities these days. It's not an easy path, but my work is being seen."
ALSO ON HUFFPOST AUSTRALIA