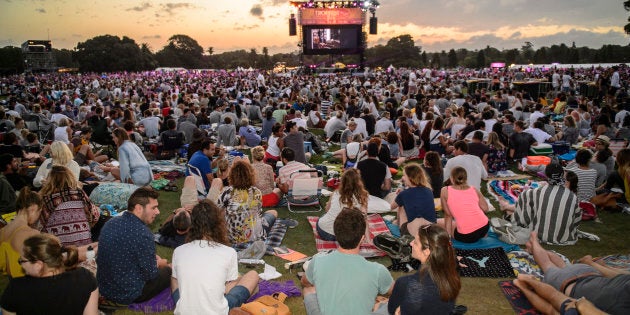 What advice would I give myself if I was starting Tropfest today? Don't do it!
Actually, I wouldn't change much. We've grown and adapted on the job, even when things have gone awry. We lived, learnt and moved on.
Be Pragmatic, But Don't Lose Your Creativity
In the couple of years after the first Tropfest, I would walk down the street and people would say, "Hey, I was there, you should do it again!", and I'd be thinking, "Why do I have to do it? I'm an actor. This isn't my world."
I reluctantly agreed to do another one thinking, "I'll figure it out as I go along." I had no idea what I was doing though. I thought I had to do everything myself! It was only when someone offered to work voluntarily for us that Tropfest got its first staff member.
Every single day has been a learning process. I came at Tropfest from a creative place and I've had to learn to be practical with it along the way too.
From starting out in the Tropicana Cafe, to (this year at) Parramatta Park, where we're expecting a crowd of more than 50,000, everything has been done in the best interests of Tropfest -- while walking that tightrope between creativity and pragmatism.
I've got a great supporter and mentor in (the filmmaker) George Miller, who's been involved in Tropfest since day one, and he's still on board today. In the second or third year of Tropfest, he came to me, plonked himself down on a milk crate and said "Mate, this is the real deal. This is how people should be learning to make films. It's all about the idea."
And that's kind of been Tropfest's unofficial motto ever since. It's not about whether you're a filmmaker who's used an expensive crane shot or a certain actor, everything regarding Tropfest boils down to how good the idea is, and do we believe in it.
Always Think About Your Audience
I guess what's worked for me and the festival though is always coming at it from a young filmmaker's point of view. This is not a sterile marketing exercise, and I'm not an accountant.
Even now, as big as Tropfest has become, being passionate about the idea is vital and I make every decision thinking, "What would a 22 year old filmmaker want from us?". Tropfest is a real launching pad for filmmakers who've gone on to establish great careers and I take that very seriously.
Of course, we've had our challenges over the years. We were almost rained out of the park in 2006 and famously ran into a financial brick wall in 2015 when the license model we were using at the time collapsed, meaning we had to postpone that year's festival.
I actually thought we were done for as we had no parachute plan for how we'd actually save Tropfest. As a small business owner, you can -- and should -- prepare for every possible eventuality. But if something unforseen comes along, I've learned that you've got to be agile enough to adapt fast.
We were incredibly fortunate to have built up a lot of goodwill over the years and in 2015 -- just as we thought we were done for -- a new partner in CGU came along and became our new best friend. I think partnerships in business work best when you add value to each other rather than your partner just sticking their logo all over your event or you ignoring what they can bring to the party.
Realise You're Just One Person
Will I still be on board to celebrate Tropfest's 50th anniversary? Who knows. It's not just about me anymore -- in fact it hasn't been since the early days. I'm just the guy who -- along with countless other people from George (Miller) and Nicole Kidman to the audience members who come along year in and year out -- didn't let us go under. Whatever happens though, Tropfest, which is now set up as a not-for profit company, will carry on.
If I'm around for Tropfest 50, I hope someone will help me to my seat in the VIP section where I'll kick back and enjoy the films. That's ultimately what Tropfest is all about.
CGU is the proud Foundation Partner of Tropfest 2017. When Tropfest, the world's largest short film festival, was originally cancelled, many small businesses were set to lose one of their biggest jobs of the year. So that's why GCU came on-board to help Tropfest and the small businesses it supports see it through. Supporting our business partners -- big and small -- is what CGU is all about, and we do what we can to help them 'See It Through'.