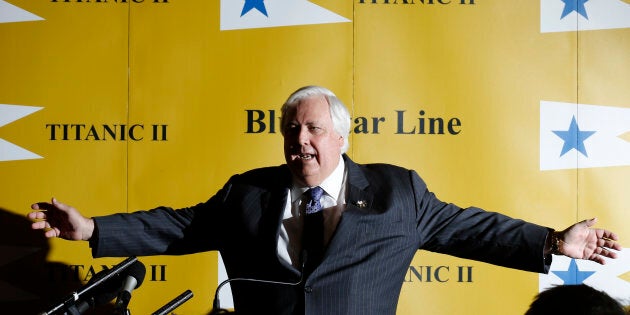 Politics has been described as battle, as war by other means and here in Sydney our parliament is fondly referred to as 'the bear pit'.
But it's also, in a weird way, like a big dysfunctional family and one you can clearly miss once you're out of the old homestead.
So maybe it's this sentiment that's moved Clive Palmer, the former Member for Fairfax, to let his passions burst from his thumbs and onto Twitter.
The object of the artist's eye, current Australian Conservative(s) and former Liberal Senator Cory Bernardi, has caused Palmer to burst out in song for the second time in a week.
Earlier this week Palmer returned to his favourite "goodbye" or "#Twidleytoo" themed songs, which first topped the charts when he wished former Queensland premier Campbell Newman all the very best in 2013.
Despite being engaged in Federal Court proceedings over the collapse of Queensland Nickel, there is seemingly no issue too big or too small for Palmer, whose work delves into the murky world of philosophy.
Courage sustains us

Courage defines who we are

Truth defines reality

— Clive Palmer (@CliveFPalmer) February 9, 2017
Climb the ladder of hope.

Climb the ladder of love.

Celebrate the ocean of peace.

— Clive Palmer (@CliveFPalmer) February 12, 2017
In the end, Palmer''s message to his fans is clear:
But also, (and never forget):