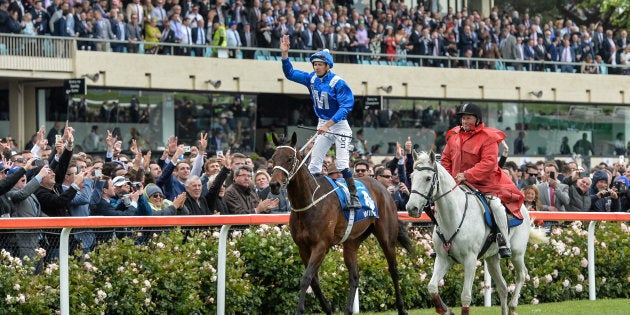 Of course she did. Of course Winx won. But oh boy, the ease with which she did it. Imagine a Porsche racing a fleet of Corollas. That was your race.
Earlier today we told you that Australia's current greatest racehorse Winx was contesting the Apollo Stakes at Randwick in Sydney on an unusual Monday race date which was forced by the postponement of Saturday's races due to heat.
Winx absolutely killed it. After starting slowly, jockey Hugh Bowman threaded the champion mare through the field. In the straight she hit the lead early on, and that was that. Hartnell ran second -- again. He must really be getting sick of the sight of Winx's rump.
Winx has now equalled the 14 race consecutive winning streak of Phar Lap -- regarded as the greatest horse in Australian turf history. This was pretty much a warm up event for richer Autumn races in coming weeks. Yet the Apollo Stakes field was classy. You've got to ask yourself -- who can beat Winx from here on in?
Half of Sydney is knocking off work early this Monday to drink and gamble. If you were being cruel, you'd say "so where's the story in that? Tell me some actual new news".
So here's why this is happening. It's all about Winx, the nation's best racehorse, who will race at Sydney's Randwick Racecourse at 5:40pm. The unusual Monday race date was quickly slotted in after Saturday's meeting was postponed due to Sydney's extreme heat.
Best of all, entry is free. Which has made a lot of people, this reporter included, feel like this:
WAIT A MINUTE. WHO'S WINX AGAIN?
Winx is like no other horse we've seen for a long time. The five-year-old mare has won 13 straight races -- all of them of the highest calibre. Here's a piece we wrote last year in which we explained the very good case to consider Winx better than Black Caviar, who won all 25 of her lifetime starts.
The gist of our argument was that Winx is consistently beating better horses over tougher distances than Black Caviar did. Winx generally races between 1400m and 2040m. That means she faces sprinters, stayers, milers and everything between -- and keeps beating them all.
Here is Winx's signature moment. It was her most recent win before taking a break -- in the Cox Plate at Moonee Valley in Melbourne. Most racing purists consider the Cox Plate Australia's greatest race. Winx made it two straight Cox Plates with a performance unlike any ever seen.
One more time for emphasis, Winx was facing the best horses in the country in the clip above, and absolutely toyed with them. Records now beckon. If Winx wins the Apollo Stakes on Monday, it can:
Equal Phar Lap's record of 14 straight wins. And by so doing, start entering "best Australian horse ever" calculations.
Add $143,750 to its current winnings of $9,348,175 (Winx is third on the all-time list).
Make some very brave punters a tiny bit richer, but not much. Winx's odds are currently around $1.12. Which means you'd win just $1.20 for a $10 bet (total collect $11.20).
Give Hartnell another headache. Hartnell is the horse who was unbeaten last Spring before meeting Winx in the Cox Plate and finishing a distant second. Hartnell went on to run third in the Melbourne Cup. He's good, but he's no Winx.
All of which explains why Sydneysiders are rather excited about the chance to watch the super mare on a cheeky Monday arvo after work.
Give credit to the Australian Turf Club. They threw the gates open for free, and their marketing team made #WinxAfterWork a thing.
It's looking nice out there today, too. Now, if we could just find a decent excuse for knocking off super early and making it #WinxAfterLunch.