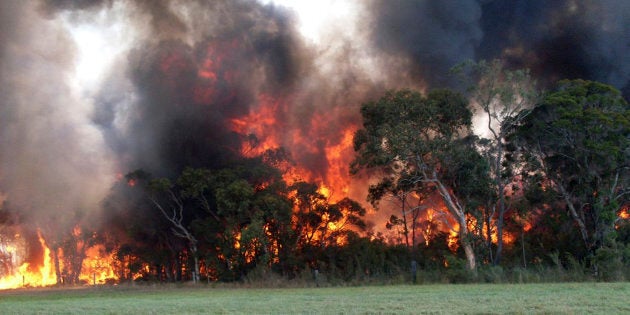 The small NSW town of Uarbry has been largely destroyed by a bushfire burning near Dunedoo in the state's central west.
Around nine of the dozen properties in the community of Uarbry were reportedly razed when the Sir Ivan fire tore through the town on Sunday. It has so far burnt through 49,528 hectares of bushland and remains at watch and act level.
The NSW Rural Fire Service has not yet been able to confirm the extent of property losses in the town, but Commissioner Shane Fitzsimmons said the damage was extensive.
"The community of Uarbry has been heavily impacted by fire," Fitzsimmons told reporters in Sydney. "Most buildings in the area of Uarbry are damaged or destroyed."
He said those affected included an RFS captain, who returned from fighting fires on the weekend to discover that his home at Uarbry was destroyed.
Residents from Uarbry were evacuated from the town on Sunday as the massive fire front approached the tiny hamlet, located about 120 kilometres from Dubbo.
The cluster of properties at Uarbry sit near the Golden Highway and includes homes and a church.
The cause of the fire, which spread fast due to strong winds and extreme heat, is not yet known.
Tony Hegarty, a farmer from nearby Cassilis, told the ABC that there was extensive damage at Uarbry.
"I think dealing with the dead stock or the damaged stock is in the first instance is the real heartache," Hegarty said.
Another major fire, also at watch and act level, is burning to the south near the Goulburn River National Park.