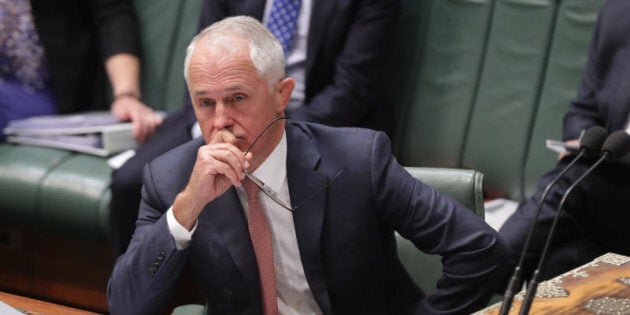 CANBERRA - When the Prime Minister delivers the ninth annual report card Tuesday on bringing the lives of Indigenous people into line with other Australians, it is expected to convey hope, but also be damning.
So damning, in fact, that The Huffington Post Australia has been told the latest Closing the Gap report will lead to soul searching over the targets set to achieve indigenous equality in the areas of health and education.
Rudd described the Indigenous imprisonment rate as "appalling" during a speech in Canberra and said he hoped Turnbull would announce a new target on Tuesday.
The Close the Gap targets -- set nine short years ago -- were to eliminate the health and life expectancy gap between Aboriginal and Torres Strait Islander peoples and non-Indigenous Australians by 2030.
On Tuesday, it's expected Malcolm Turnbull will report to parliament there has been "insufficient national progress" in Closing the Gap.
One of the stubborn areas has been the effort to raise the life expectancy of Aboriginal and Torres Strait Islander people. The 2016 Closing the Gap report showed the life expectancy gap is still around 10 years, what Turnbull called last year an "unacceptably wide gap".
Improving Indigenous employment has also been intractable, but the situation is looking up for tertiary educated people and women, over the longer term.
Turnbull insists tackling Indigenous disadvantage and achieving equality for Australia's first peoples remains a key government priority.
It is, he told Parliament on Monday, "a gap we are as determined now as we were in 2008 to close".
And he has proudly proclaimed, "no gap," for tertiary-educated Indigenous people during an evening address to the Indigenous Business Reception in Canberra.
"We are making progress and you are part of it," the Prime Minister told the audience.
"In the seven years to 2015, the gap in Year 12 attainment shrunk by close to 15 percent, and in the decade to 2015, the number of Indigenous students enrolling in higher education nearly doubled."
"The higher the level of education, the smaller the gap between Indigenous and non-Indigenous employment."
"For tertiary-educated Indigenous people, there is no gap. There is no gap."
But while school achievement rates are on track, there will be concern Tuesday for employment and total life expectancy. And, as ever, the child mortality rate will always be too high.
Whatever Turnbull delivers at noon, it is not occurring in isolation.
It found Aboriginal and Torres Strait Island people are more disadvantaged with "alarming" and worsening levels of imprisonment and increasing serious cases of self-harm, psychological distress and substance misuse.
Some of the Closing The Gap targets are due to be met next year in 2018. But it is expected many won't.
Other targets are due to be met in 2030. And there will be many terms of government between now and then.
Should the Closing The Gap targets be more ambitious? Should the whole system be shaken up?
Commonwealth, State and territory leaders have agreed to refresh the targets with, they stress, assistance and advice form Indigenous leaders, communities and organisations. And the last decade will be reviewed to learn from successes and failures.
The Turnbull Government is reforming the operation of the Indigenous Affairs portfolio. It insists on doing things with Aboriginal and Torres Strait Islander people, not to them.
But the former Prime Minister Tony Abbott, the self-described Prime Minister for Indigenous Affairs, has offered an assessment of failure and this advice:
"We have had damning report after damning report in Indigenous programs for the best part of 30 years," he told the RN Drive program. "The important thing is that we try new things."
"We have had a couple of generations of, really, large scale failure here. I am not saying there have not been successes."
"What we have been doing since the 1970s is spending billions a year on Indigenous specific programs, there has been a superabundance of goodwill by everyone ... and yet things are, in many respects, not going forward and in some important respects they seem to be going backwards."
ALSO ON HUFFPOST AUSTRALIA