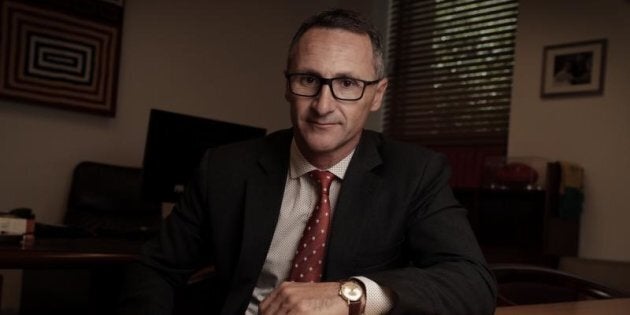 CANBERRA -- The Greens appear to have hit a nerve over a new push for scrutiny of politician perks but have offered no proof of wrongdoing in the area they are now targeting: accusations of pollies pocketing some of their $30,000+ annual electorate allowance.
It is easy to see why. Under the current rules wrongdoing is barely possible to prove.
But here we have Greens Leader Richard Di Natale accusing MPs and Senators of pocketing money left over from his or her taxpayer funded electorate allowance. An allotment that has not been put to the test before. It is money meant to be spent on day-to-day duties as a local representative and politicians are advised to use it or lose it.
"It is absolutely within the rules. In fact, it is what happens within the parliament," Di Natale said Wednesday.
"I do know that some members of parliament rather than spending that electorate allowance worth over $30,000 per MP pocket that money."
Asked by The Huffington Post Australia who does dive into the allowance, the senator could only say not the Greens.
"I have no idea," he said. "It is a question that should be put to every politician in this building. Do you spend on your electorate business or do you take the cash?"
HuffPost Australia asked politicians on all sides; none, of course, would admit to under-spending the allowance and therefore picking up some extra cash.
"There is not much of a leftover at my end," recalls Senator Nick Xenophon. "I think I spent pretty much all of it on a range of community campaigns, on issues to do with my electorate and advocacy for my electorate."
"This is my sixth year in the senate and I have never had money left over in my electorate allowance," insists Labor's Lisa Singh, who then spoke up for her party. "I don't know any in my party who do have any left over.
"I think the Greens need to get out there and do their job a bit better rather than playing politics which they seem to like to do so often with various political stunts that they participate in."
And Liberal Senator James McGrath also told HuffPost Australia he spends it all, and then revealed what he spends it on.
"I spend it on things whether it is raffle tickets, whether it is prizes, whether it is extra stuff for the office," he said.
"Electorate allowance helps you do the job. When you are a Senator for a large state such as Queensland you spend so much time travelling, you spend so much time meeting people, doing things, the electorate allowance goes pretty quickly actually."
Really, who would admit to pocketing left over money anyway?
The Greens want the use it or lose it aspect to the allowance removed, misuse made illegal and greater scrutiny to the allowance applied. The party will put this push in an amendment to the Turnbull Government's entitlement reform which has entered parliament.
"The weight of public opinion here is pretty obvious," he said.
"What you got is the public saying we have had a gutful. We are sick and tired of pollies taking the piss, taking their families on 5-star holidays across the country and charging the taxpayer.
"What we need to see is root and branch reform."
Whatever the outrage on entitlements, it is unlikely the Greens push will become reality. The Government has not seen the Greens amendment and no instances of allowance misuse or abuse were put to the Independent Parliamentary Entitlements System Review.
The Special Minister of State, Scott Ryan has told HuffPost Australia the allowance was generally reviewed.
"Parliamentarians' electorate allowance was reviewed by the Independent Parliamentary Entitlements System Review and among its 36 recommendations, the review did not suggest its abolition or reduction," Ryan said in a statement.
"The Turnbull Government is currently undertaking the most comprehensive reform of parliamentarians' work expenses in a generation."
ALSO ON HUFFPOST AUSTRALIA