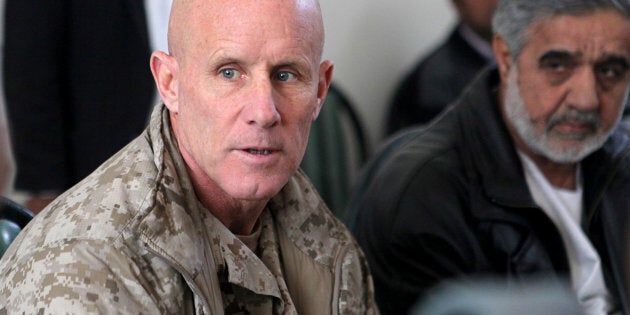 President Donald Trump's pick to replace ousted National Security Adviser Michael Flynn turned down an offer to join the administration after the president's bizarre news conference on Thursday, several news outlets reported.
Vice Adm. Robert Harward, a retired Navy SEAL and former deputy commander of U.S. Central Command, reportedly was offered the job heading the White House National Security Council after Flynn was forced to step down for lying about Russian contacts. Harward is a senior executive at the defense contractor Lockheed Martin.
Harward rejected the job because of family commitments and financial concerns, according to a senior administration official.
"It's purely a personal issue," Harward told The Associated Press, adding that the Trump administration was "very accommodating to my needs, both professionally and personally."
Harward took notice of Trump's White House news conference on Thursday, a source told The Huffington Post. The president lashed out at the media, fiercely defended his administration's performance during its chaotic first month and said Flynn had done nothing wrong in discussions with Russian officials before the inauguration.
Trump also told reporters he had an "outstanding" replacement in mind for national security adviser.
Harward and the White House may have disagreed on key issues, like staffing at the National Security Council. A source close to the situation told The Huffington Post that Harward wanted more freedom to bring in his own staff. Flynn's former deputy, K.T. McFarland, had been expected to leave the administration after Flynn's resignation, but it became clear on Thursday that Trump wanted her to stay.
Flynn resigned on Monday, following a Washington Post report that revealed he had spoken with the Russian ambassador to the U.S. about American sanctions prior to Trump's inauguration, despite repeated assurances by administration officials, including Vice President Mike Pence, that he hadn't done so. The Post later reported Trump had learned about Flynn's call weeks earlier from the Department of Justice, but didn't act until Flynn's dishonesty with administration officials leaked. Flynn also lied about the Russian contact to FBI agents.
"He was doing his job and his counterparts, so it certainly would have been okay with me if he did it," Trump said during his 77-minute press conference Thursday, referring to Flynn's call with the Russian ambassador. "I would have directed him to do it if I thought he wasn't doing it. I didn't direct him, but I would've directed him because that's his job."
CNN reported the FBI was unlikely to pursue charges against Flynn.
Nick Visser contributed reporting.