Severe storms are roaring into Sydney on two fronts, as the city bunkers down for a Friday evening of likely commuter chaos.
At 3:29pm the Bureau of Meteorology issued a severe thunderstorm warning for the city and its western and southern surrounds, warning of damaging winds, large hailstones and heavy rainfall that may lead to flash flooding are likely.
Take a look at this weather radar. Red and yellow indicate heavy rainfall. This storm system is coming in waves and the city may experience repeated batterings before the night is done. In the first wave, some Sydney suburbs received up to 21mm of rain in a matter of minutes. Wind gusts up to 100 km/h have also been recorded.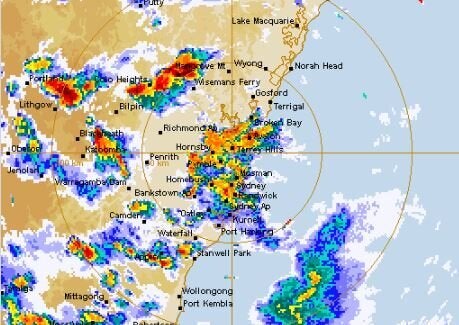 Channel 7 captured this great video of lightning striking near the Harbour Bridge as the storms reached the city.
Meanwhile, we're pretty sure the Penrith Panthers NRL team won't be training on Friday afternoon.
The storms appeared to have passed by early evening, but warnings remain in place for areas north of Sydney.