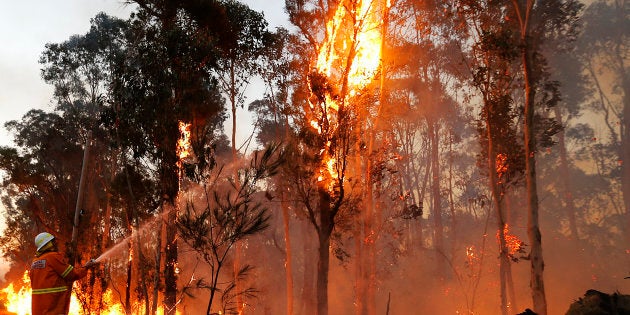 Residents return to properties following an our of control grass fire that burned from Friday through to Saturday morning, destroying eight homes and damaging six.
Firefighters worked through the night to stay on top of the out-of-control blaze, they welcomed a change in weather conditions on Saturday.
More than 100 firefighters and aerial waterbombers resumed operations on Saturday morning after the Rural Fire Service (RFS) confirmed property loss around Queanbeyan on the NSW-ACT border, with at least 15 properties believed to have been razed.
Two firefighters have also been injured in the blaze, which has burnt through 2,500 hectares of grassland.
In an update on Saturday morning, the RFS said the fire, now at advice level, was burning in the area of Captains Flat Road between Carwoola and Hoskinstown.
"Firefighters have worked throughout the night to protect properties. The fire is burning to the west of the old railway line in the Hoskinstown area and remains uncontained," the fire agency said.
"A number of properties have been destroyed by the fire. Building Impact Assessment teams will move into the area today to confirm and assess the property losses."
Thankfully conditions have eased in the vicinity of the fire. Winds and temperatures have dropped, resulting in the blaze being downgraded twice since Friday.
At about 8pm last night it was downshifted from an emergency situation to a watch and act then at about midnight it was revised from a watch and act to the current advice level.
"Hopefully it won't grow too much more," he said.
"Given the conditions that are predicted today, we shouldn't see anything too extreme coming from the fire ground today."
On Friday evening, The Queanbeyan City Rural Fire Brigade posted on their Facebook page "we don't have anything profound to say tonight. We just did our best today."
The latest destructive fire outbreak follows last weekend's damaging blazes that destroyed 45 homes in the state's central west and wiped out the small town of Uarbry, near Dunedoo.
ALSO ON HUFFPOST AUSTRALIA