When you're scouring through the, at times, never-ending process that is job hunting, what do you look for?
Of course there's job titles, experience levels, pay and skill sets. And then there's workplace culture -- an area that is gaining considerable traction for the LGBTQ community.
Inclusive workplaces are those where people can bring their whole self to work and where they aren't needing to constantly self-edit.
"We know from our research that a lot of people make key decisions around employers on the basis of cultural elements. Workplace inclusion is increasingly one of the leading areas of differentiation," Ross Wetherbee, Senior Program Manager of Pride In Diversity, told The Huffington Post Australia.
Pride in Diversity is an Australian not-for-profit employer support program from LGBTQ health organisation ACON and the creators of the Australian Workplace Equality Index (more on that later).
The team have launched a website to connect job seekers with those employers who are committed to creating workplace cultures that accept and celebrate diversity.
"We see this an an opportunity for workplaces to profile themselves to talent -- and that includes both LGBTQ staff as well as those who consider an inclusive workplace for LGBTQ staff as a priority," Wetherbee said.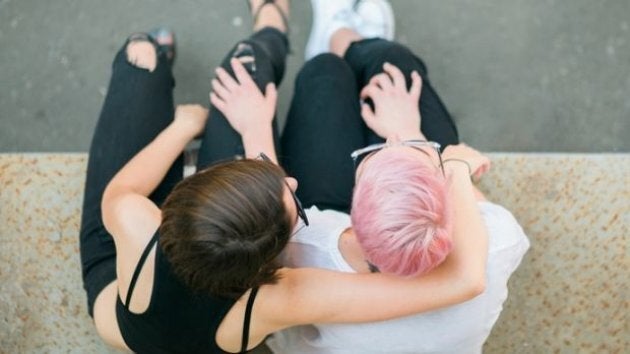 What makes an inclusive employer?
And these results came from 65 organisations with LGBTQ workplace inclusion programs in place.
"This is the reason why our program exists," Wetherbee said.
"While this is absolutely not about "outing" people, we do know that creating psychologically safe environments -- where people aren't constantly self-editing themselves or watching what they say -- can increase productivity and develop stronger relationships."
They are more likely to be out and feeling psychologically safe.
This is where the Australian Workplace Equality Index comes in.
Launched in 2011, AWEI is an annual, evidence-based bench-marking system that ranks Australia's most inclusive workplaces.
"Each year, organisations submit their practice and what they've done over the year. We then assess that and reveal platinum, gold, silver and bronze-tiered employers," Wetherbee said. "We want to recognise good practice and encourage organisations towards it."
AWEI Criteria:

1. Policy and practice: Does an organisation use inclusive language within their policy-making?

Consider parental leave policy. Do references to partners explicitly include same-sex partners and their families? Are sexual orientation, gender and intersex identity articulated as protected attributes within anti-discrimination policy?

"It's about ensuring that people don't read themselves out of the policies put in place to support all employees," Wetherbee said.

2. Level of staff training: How are organisations fostering a culture of inclusion among staff?

"Ensuring that organisations are providing awareness training across all levels of staff -- from management to HR -- is crucial."

3. Quality of staff resources: How is that culture being sustained?

"One of the most important areas could be an employee resource group that consists of a group of committed staff who hook others into that group."

4. Outside the office: what is being done to continue work with the LGBTQ community outside of work?
"Our research around the AWEI sees organisations that do well in the index have much more positive outcomes for the employees that are part of them," Wetherbee said.
"We see a greater number of people who are "out", who say they know where to go if they need access to information and who have greater faith in leadership about handling an issue if it may arise."
How does it work?
'Inclusive Employers' provides a platform for both Pride in Diversity members as well as any organisation who meets the minimum AWEI criteria to create an online profile.
"Each non-member will go through a rigorous application process. This then kickstarts a process that is available for updating as the organisation changes," Wetherbee said.
When we first started all of this, we were knocking on doors and organisations were closing them in our face.
Now with over 185 members, amid a 45 percent growth in the last 12 months, Wetherbee hopes the platform will spur on more involvement.
"When we first started all of this, we were knocking on doors and organisations were closing them in our face. Now we know this is a growing area across all industries and sectors."
ALSO ON HUFFPOST AUSTRALIA