If you're bored of the same bowl of cereal or oats every morning, you need to try refreshing, summery and colourful smoothie bowls.
Before you put this breakfast in the 'too hard' pile, trust us -- smoothie bowls look fancier than they really are.
All that's involved in making these pretty bowls is blending frozen fruit with liquid, such as almond milk or coconut water, and topping with your favourite granola, fresh fruit, nuts and seeds. Seriously, all you need is a blender and (less than) five minutes.
Sure, you could drink a regular smoothie, but doing it this way allows you to make the mix super thick and creamy -- too much for a straw to handle, so a spoon is required.
On top of being delicious, smoothie bowls are the perfect way to get in your daily serve of fruit and to keep you cool all summer.
Here are six smoothie bowl recipes you'll want to make every morning.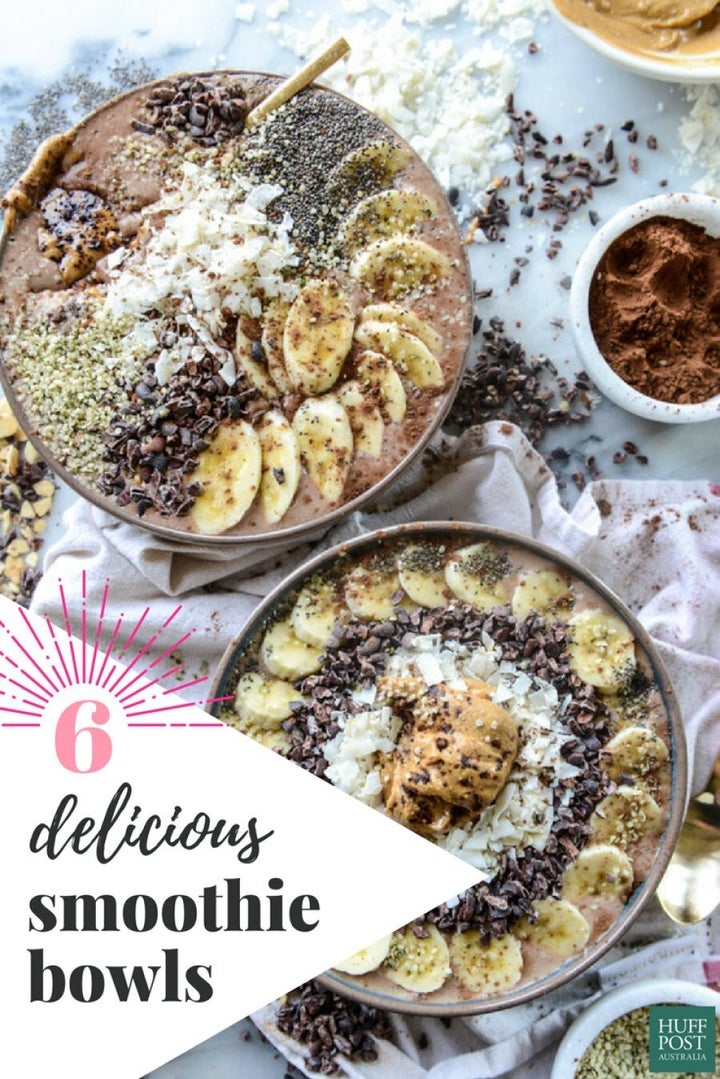 1. Five-minute berry smoothie bowl
If you love berries, this five-minute berry smoothie bowl is for you. Using only four simple ingredients (the fourth being optional), this smoothie bowl is creamy, satisfying and nutrient-rich.
Pro tip: top with extra seasonal berries and desiccated coconut.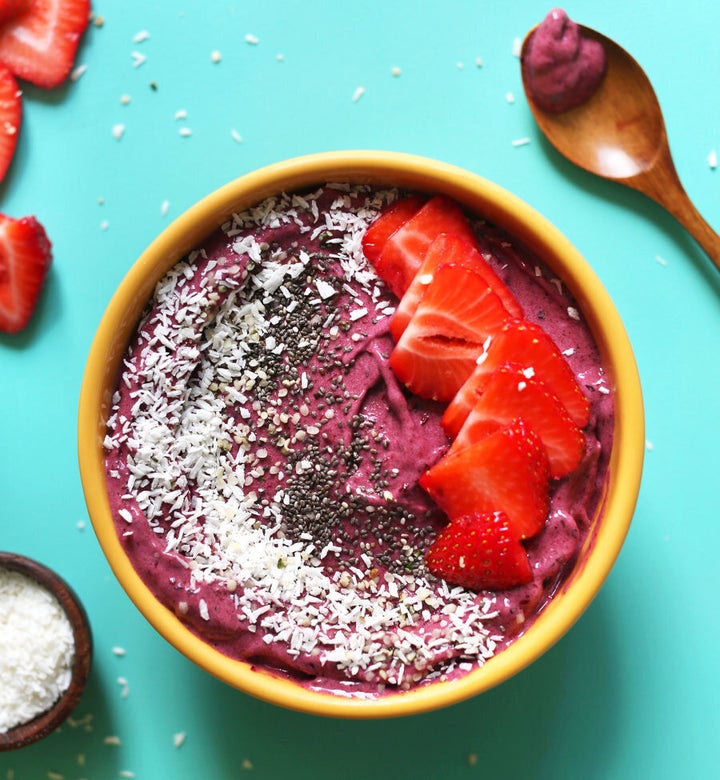 2. Double chocolate peanut butter smoothie bowl
Now this is how you eat dessert for breakfast. This mouthwatering double chocolate peanut butter bowl combines the two best flavours ever (chocolate and PB, obviously) but still manages to be nutritious.
Pro tip: try topping your smoothie bowl with chocolate granola for a triple choc experience.
3. Tropical green smoothie bowl
This five-ingredient smoothie bowl is all about combining super healthy ingredients to create a smooth, delicious ice cream-like breakfast.
Sneaking some greens into your smoothie bowl is one of the easiest ways to help meet your daily veggie requirements -- and you can hardly taste them, promise.
Pro tip: blend your greens with the liquid first.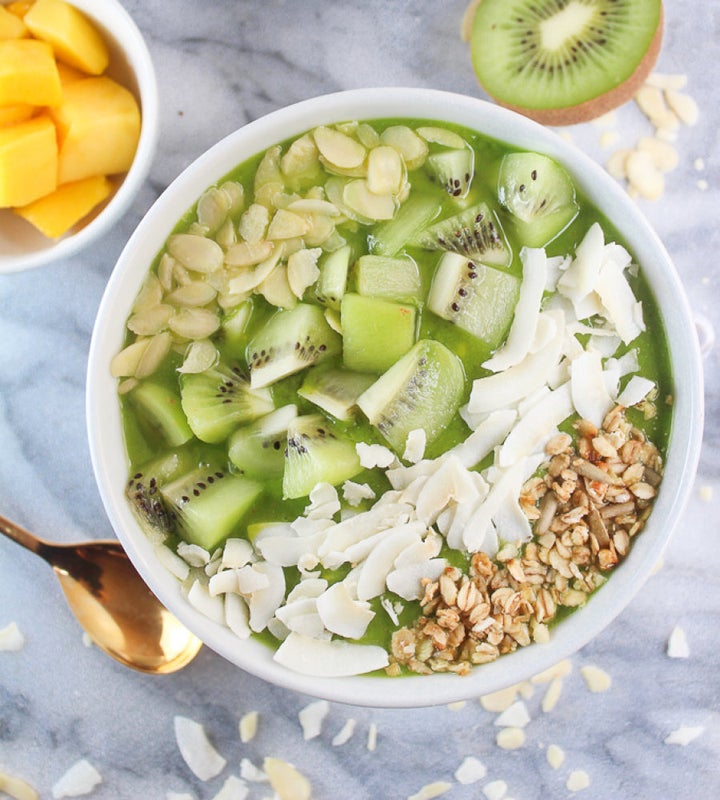 4. Blueberry green smoothie bowl
If you like the idea of eating greens but can't get past the colour, try this blueberry green smoothie bowl. It's packed with delicious blueberries and banana, yet with some sneaky, invisible greens thrown in.
Pro tip: top with nut butter, granola and seeds to make this extra filling.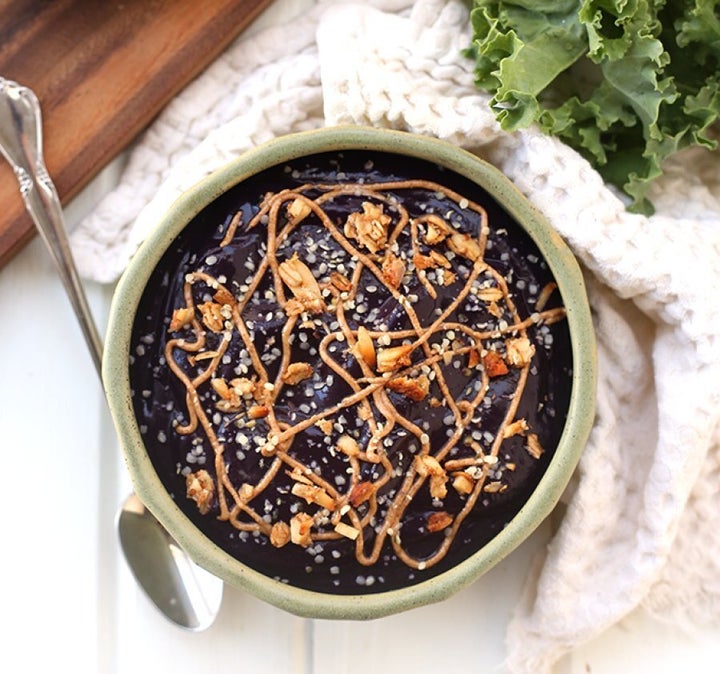 5. Rainbow coconut smoothie bowl
In Australia, we have access to some of the best summer fruit in the world, so let's put them to good use with a rainbow smoothie bowl.
With a wickedly creamy coconut base, you have creative freedom over the colourful topping. Choose your favourite fruits to create an enticing rainbow.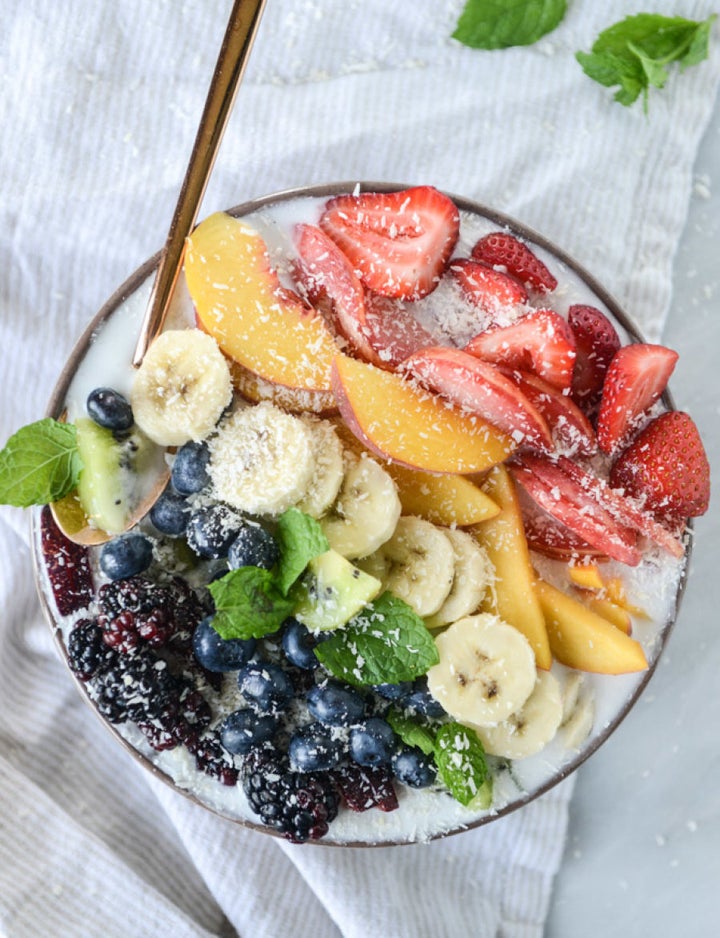 6. Chocolate hazelnut smoothie bowl
We couldn't finish a breakfast recipe feature without a Nutella-inspired smoothie bowl. Combining bananas, cacao powder, toasted hazelnuts and milk, this chocolate hazelnut smoothie bowl is lip-smacking good. And it's nutritious. Win-win.
Pro tip: use less milk for a more ice cream-like consistency.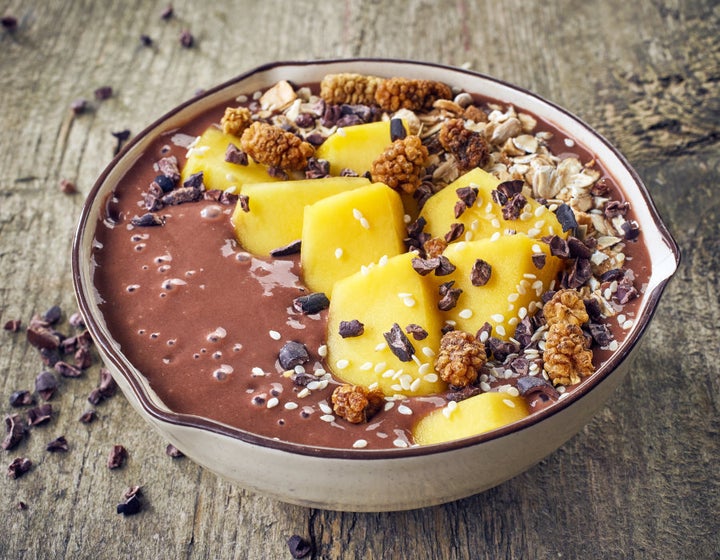 ALSO ON HUFFPOST AUSTRALIA