Eating healthy and sticking to an exercise routine is tough. There's no doubt about it.
What about that delicious chocolate? What healthy meal am I even going to make tonight? And we've all said this: Oh, it's raining today, I'll go to the gym tomorrow instead.
Although 'winging it' seems easier to begin with, healthy eating and working out is easier in the long-term when you're not taking each day as it comes. Yes, planning is the key.
"The importance of meal and exercise planning and preparation cannot be underestimated," registered pharmacist and certified personal trainer Holly Louise told The Huffington Post Australia.
"Planning which to foods to eat, in which quantities, at roughly what time, and then preparing your meals based on this plan is the driving factor for dietary compliance and results."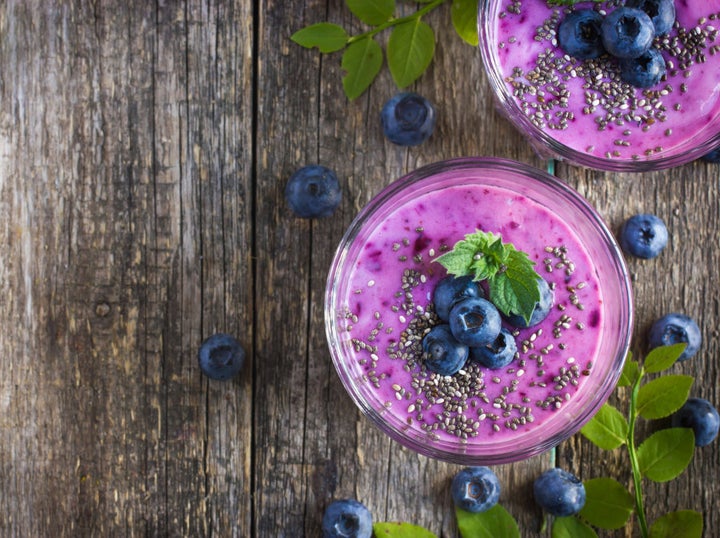 Essentially, by planning your meals and workouts, you're in control.
"Planning ahead allows you to be more in control of your food choice," celebrity nutritionist and chef Zoe Bingley-Pullin told HuffPost Australia. "If we aren't prepared we can reach for foods we don't really want, and foods which aren't necessary, the most nutritious or balanced, which may lead to feeling poorly after eating."
"By having your meals planned and prepped, it reduces the chance of you making poor food decisions, especially when you are starving," Louise said.
"It also helps you save time by not having to go out and buy a meal."
If we are winging it whilst starving we are more likely to reach for quick sources of energy such as sugar and refined carbohydrates.
Finding new healthy recipes and planning and prepping meals also offer improved knowledge of food and the effect it has on your body.
"By consistently planning and preparing your meals, you will gain a greater understanding of nutrition and healthy eating, as well as which foods are easily digested by your body and which foods aren't," Louise said.
The same principle of planning applies to exercise and training.
"By having a specific routine to follow every week you are significantly improving your chance of getting the results that you want," Louise explained. "By following the same program each week, you will also know when and how to make changes if your progress stalls."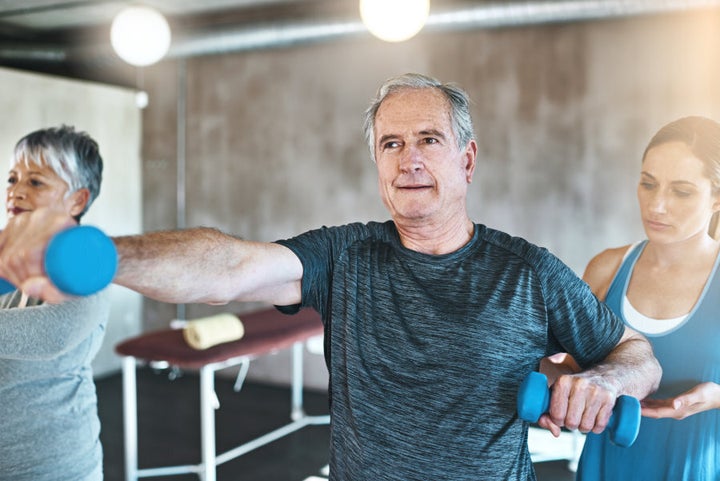 If you're prone to winging it when it comes to healthy eating and exercising, here are a few convincing reasons to start planning.
"When we wing it we often find that all we get is a lack of results and a lot of frustration," Louise said.
"I used to just wing it and my progress was extremely slow. It wasn't until I decided to really dedicate myself to learning and gathering as much factual knowledge as possible on health, fitness, nutrition and exercise that I really noticed a significant change.
"By applying that knowledge to my workouts and nutrition program, and tracking everything I was doing and eating, I really started to understand what I was doing, why I was doing it and the effect it would have on my body.
"When your progress slows or you reach a plateau, you will know what you need to change to keep moving towards your goal. Education and application goes a long way if you really want to start seeing measurable results in a short amount of time. 'Winging it' just doesn't work for the average person."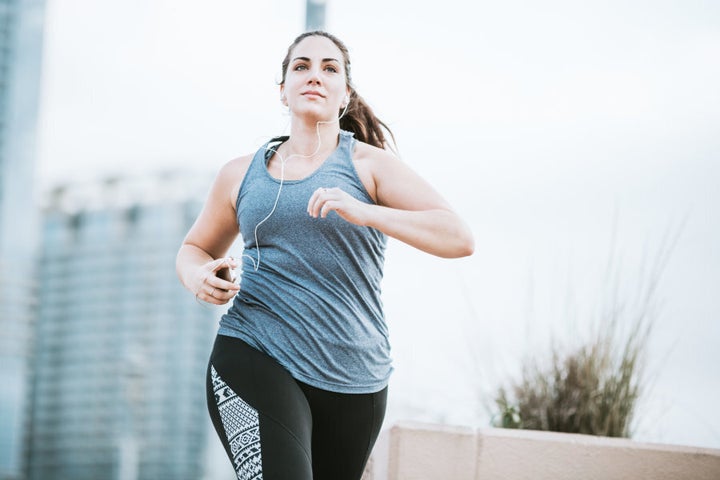 When we don't plan ahead, we're also more likely to reach for foods that we're trying to steer clear of.
"We choose food according to our most loud cravings, which isn't necessarily a bad thing all the time, as we should eat in tune with what our body wants. In saying that, if we are winging it whilst starving we are more likely to reach for quick sources of energy such as sugar and refined carbohydrates," Bingley-Pullin said.
"As we have also not taken the time to prepare our meal, it may not be a balanced meal and may also lead to lack of satisfaction."
Eight important tips for meal and exercise planning.

Don't overwhelm yourself -- if planning for an entire week puts you off, aim for doing two or three days at a time, and work your way up.

Keep it simple -- print out a list of a few snacks and meals you enjoy from below, and pick from the list each week.

Eat for your goals -- calculate how much energy your body naturally burns and how much food you should eat to support your goals (e.g. fat loss, muscle gain, etc.).

Ensure you're getting a good mix of all three macronutrients (protein, carbohydrates and fat) -- diets that restrict or eliminate any macronutrient are not ideal. Each macronutrient is important for many processes in the body and optimal intake of each allows our bodies to work efficiently.

Ensure variety in your diet -- this is not only so that you don't get bored with your diet and get off track, but because different foods provide different types and amounts of key nutrients. Every food group has an important role to play in the optimal functioning of the body.

Plan your meals around your lifestyle -- if it isn't feasible for you to sit down and eat a meal due to restrictions with the nature of your job, or you are busy driving the kids around, then plan your food accordingly. For example, perhaps a protein smoothie would be a more suitable option for breakfast.

Learn to love leftovers -- this is such a quick way to enjoy a healthy meal the next day. Simply roast extra vegetables and grill extra protein for a salad the next day, and boil a few extra eggs for breakfast and snacks.

Don't deprive yourself -- your meal plan should include some 'treat foods'. By factoring these into your plan regularly, you will be less likely to develop cravings which can result in an all-out binge.
When it comes to training and scheduling in training, more is not always better, Louise explained.
"'There is an optimal level of activity that exists on an individual basis and pushing your body beyond this level will often result in diminished returns," Louise told HuffPost Australia.
"Focus on the quality of your training, not the quantity, and ensure you allow adequate recovery in between sessions to reduce the risk of injury and over-training. This is highly individual as some people need more recovery than others.
"Don't just copy someone else's training routine -- plan to follow a routine that fits your abilities and lifestyle."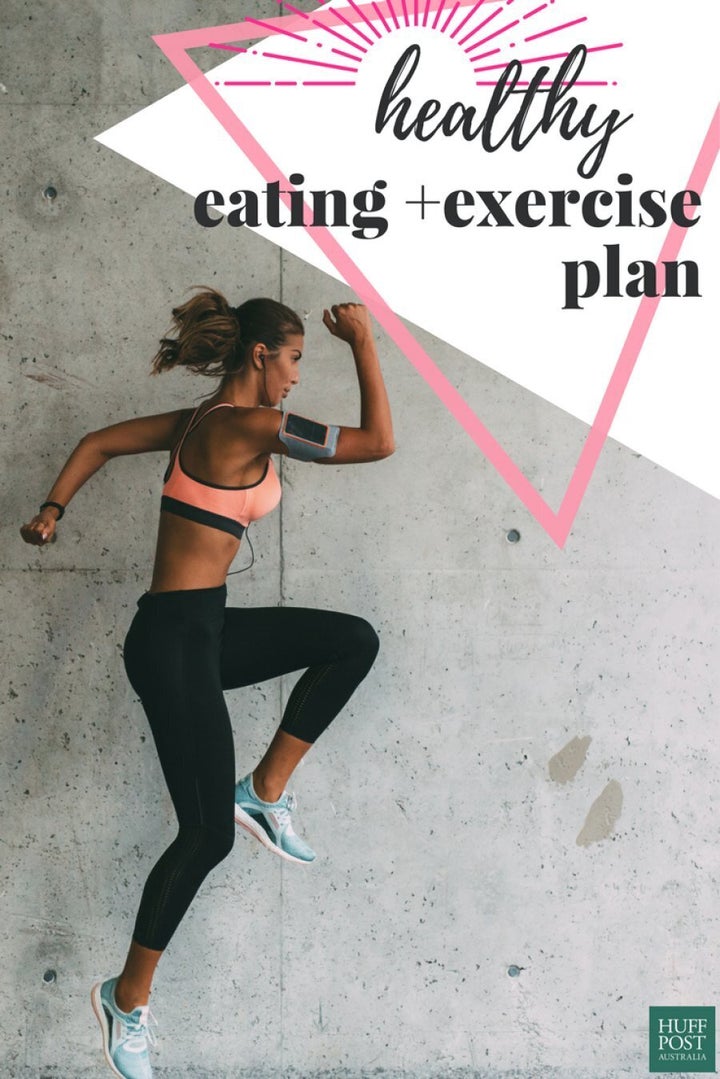 It's always best to check with your doctor before starting a diet plan.
Pick a few different meals and snacks, and alternate these as little or often as you like.
Breakfast
Omelette or scrambled eggs on toast: two large whole eggs, one slice wholemeal bread, 60 grams avocado, 25 grams baby spinach
Bircher muesli: ½ cup rolled oats, one tablespoon chia seeds, one cup milk soaked overnight, add fresh fruit in morning
Smashed avocado with feta: two slices wholemeal sourdough, ½ avocado, sliced tomato, feta cheese, rocket leaves
Banana and cacao smoothie: one cup soy milk, one frozen banana, one tablespoon cacao, one tablespoon LSA meal, one tablespoon yoghurt
Muesli with fruit and yoghurt: ½ cup low sugar untoasted muesli, fresh seasonal fruit, natural yoghurt, LSA meal
Almond and blueberry smoothie: one cup almond milk, ¼ cup berries, one tablespoon yoghurt, one tablespoon oats
Snack
Protein yoghurt and muesli: 150 grams Chobani 0% yoghurt, fresh or frozen blueberries, low fat untoasted muesli
Small smoothie (halve smoothie recipes above)
Natural yoghurt with fresh berries
Whole grain crackers (Ryvita or Vita-Weat) with guacamole
One slice whole grain bread with nut butter
One piece of fruit and ¼ cup raw nuts
Vegetable sticks with hummus
Lunch
Chicken and rice salad: 80 grams cooked chicken breast, 125 grams cooked brown rice, baby spinach and rocket mix, cherry tomatoes, two tablespoons homemade salad dressing
Turkey wrap: spelt/whole grain wrap with 100 grams turkey breast, hummus, fresh salad
Salmon, avocado and quinoa bowl: ½ cup cooked quinoa, ½ sliced avocado, 100 grams cooked salmon fillet, baby spinach, cucumber, combined with dressing (whisk one teaspoon miso paste with two teaspoons tahini, squeeze of lime, water)
Open-faced sandwich: 1-2 slices whole grain sourdough topped with ¼ avocado, 100 grams salmon, handful rocket, ricotta cheese
Potato and lentil soup with 1-2 boiled eggs and one slice sourdough toast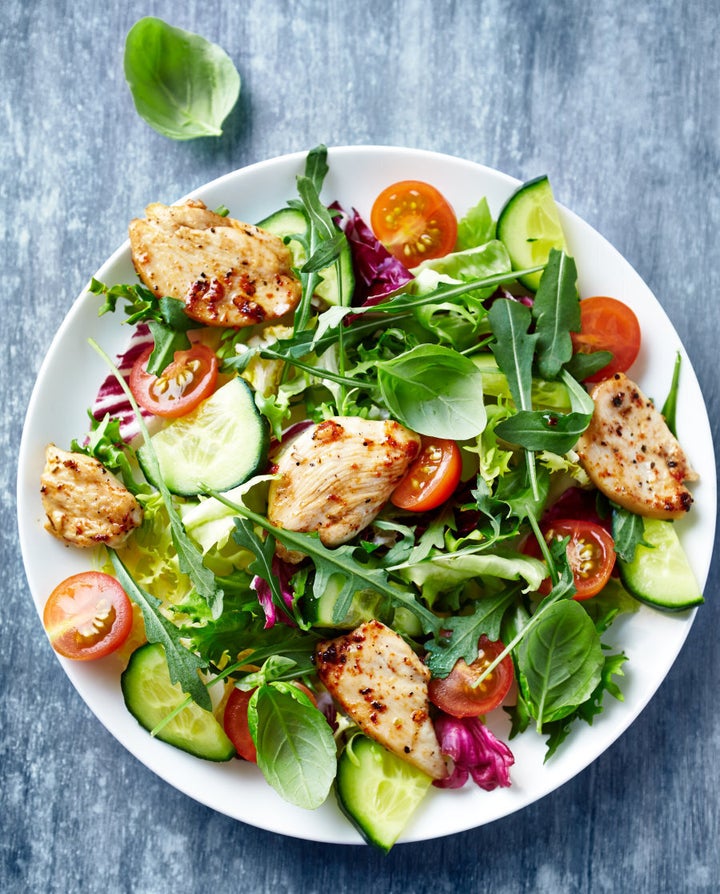 Snack
Tuna and avocado rice cakes and watermelon: three thick rice cakes, one tin tuna in olive oil, 70 grams avocado, 100 grams fresh watermelon
Crackers with nut butter: two Ryvita crackers, ½ tablespoon peanut butter, ½ sliced banana
Natural yoghurt with kiwi fruit and LSA meal
One low sugar muesli bar or bliss ball
Dinner
Fish and chips: 100 grams baked barramundi seasoned with lemon juice and pepper, 150 grams baked sweet potato chips, 100 grams broccolini
Beef pita: 100 grams roast beef, feta cheese, relish, toasted pita bread, handful of rocket
Tofu stir fry: stir fried firm tofu, chopped veggies, 125 grams cooked brown rice, dressing (tamari/soy sauce, sesame oil, ginger, garlic, chilli)
Pan fried chicken breast with tomato ragu, brown rice pasta, leafy green side salad
Dessert/treat
Two squares dark chocolate (70 percent and higher)
Peppermint tea and ¼ cup trail mix
Healthy hot chocolate (heat cacao powder, milk and honey)
Small handful chocolate coated goji berries
One piece of fresh fruit

ALSO ON HUFFPOST AUSTRALIA