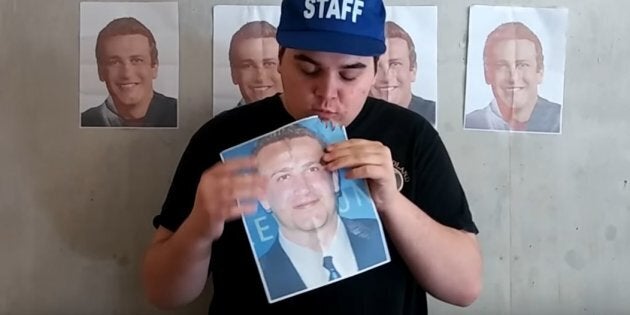 In what's potentially the weirdest stunt of all time, a man has vowed to eat a picture of actor Jason Segel everyday until Segel eats a picture of him.
Comedian Noah Maloney started the bizarre ordeal last Thursday when he announced to his YouTube followers that he was going to start the mission.
In the last few days, he's claimed the hashtag #eatmyfacesegel and left many people wishing the actor would end this nonsense already.
In the incredibly weird videos Maloney can be seen staying true to his word and biting off pictures of Segel then chowing them down. He then washes it down with water.
In another clip he even eats it while getting Segel's named tattooed on him. He's also weirdly silent throughout it all. It's a little disturbing.
There's a video for each day but we think you may have seen enough here.
Eating paper is quite obviously not great for your health or your sanity. Although paper is digestible, eating it in large quantities has the potential to damage a person's health.
"Most paper is treated with harmful chemicals, especially coloured paper, and the ink in the paper is poisonous in large quantities, so we wouldn't advise eating your copy of Catcher in the Rye for lunch (eat a pastrami on rye instead)," Dan Myers told The Huffington Post.
Let's hope Segel puts an end to this story soon.