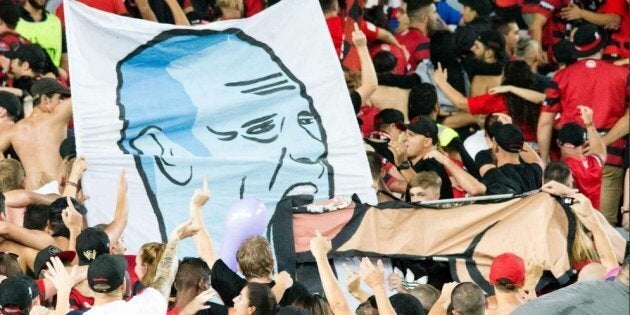 The Western Sydney Wanderers have been fined $20,000 by Football Federation Australia for bringing football into disrepute over the offensive banner unfurled during the Sydney Derby match on Saturday night.
The fine follows the 18-month suspension announced on Wednesday of 14 fans who helped make or conceal the banner.
The distasteful banner during the Sydney Derby match depicting Sydney FC coach Graham Arnold engaged in an oral sex act.
The banner was widely criticised by football fans, the general public, and Football Federation Australia (FFA), which promised to investigate the incident. The FFA condemned the banner, calling it "discriminatory" and "totally unacceptable" for the A-League.
Since its inception in 2005, the A-League has actively tried to market itself as a family-friendly league. The homophobic image did not exactly reflect that.
The derby match between the two Sydney teams is one of the A-League's biggest fixtures and Saturday's game attracted 43,000 fans, many of them young children which the league has been targeting.
"FFA is aware of the unauthorised and totally unacceptable banner that was displayed in the Western Sydney Wanderers area during Saturday night's Sydney derby at ANZ Stadium," A-League boss Greg O'Rourke said.
"The discriminatory nature of the [banner] has no place in society and will not be tolerated in the A-League.
"We are working with the club and currently gathering as much information as possible and will deal with the matter when we have all available facts including CCTV footage."
This isn't the first time the RBB have found themselves in trouble.
The Western Sydney Wanderers bring the passion and support soccer needs in Australia. But the FFA and wider public have made it clear that these behaviours and attitudes have no place in Aussie soccer -- or indeed Aussie sport.
Western Sydney Wanderers Chief Executive John Tsatsimas addressed the incident on Sunday, saying the club does not condone the actions.
"As a club made up of the most diverse and inclusive cross-section of members and fans in Australian sport, we do not condone the imagery depicted in the banner," he said.
"The club remains committed to working with FFA and our stadiums to ensure our matches remain a positive, family-friendly environment."
ALSO ON HUFFPOST AUSTRALIA