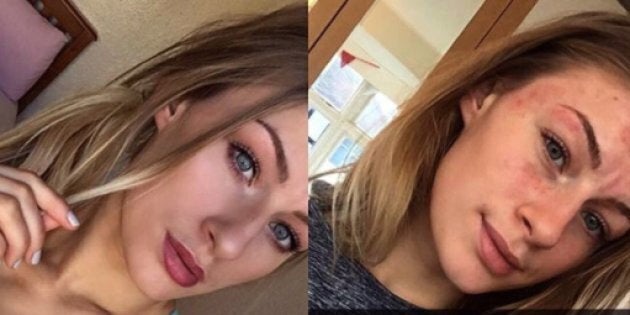 Gray posted two side-by-side photos on of her face last week, calling the post a reality check. The first image, she wrote, is "how you see me when my eczema is under control, I've done my makeup and I'm feeling sassy." The second, she said, was taken "when my eczema isn't under control, it's very blotchy, sore and I can't wear any makeup."
The photos are "both me, both real and both totally acceptable," she wrote.
Gray acknowledged that social media is a great way to show "the good parts of people and their lives," but she wanted to use this image to remind her 139,000 followers that what you see on social media is "not the full story, it's not how that person will look or be alllllll the time!"
Indeed. Eczema is common skin condition that affects over 30 million Americans. Symptoms can include redness, itching, inflammation, oozing and swelling of the skin. Promising trials show that relief may be on the way for some, and there are dermatologist-approved remedies and products that help people with eczema cope. Still, there's currently no cure.
The condition is still "a big insecurity" for Gray, she admits, but she said she's "learning to accept myself knowing that everyone has their own struggles and insecurities and that's what makes us unique and special."
Indeed.