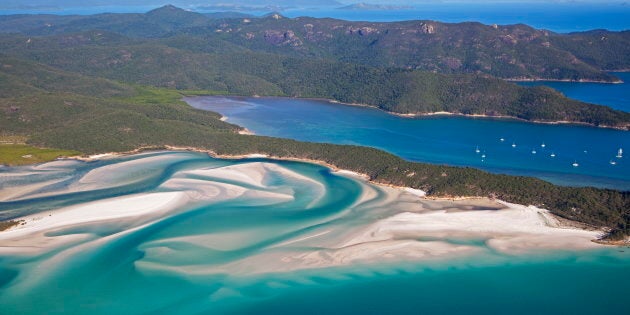 Backpackers, glamour travellers and summer sun enthusiasts alike -- it's that time of year again. The best beaches around Australia, and the world, have been announced for 2017.
Travel planning and booking website TripAdvisor has named the beaches around the world in its Traveller's Choice Awards for Beaches, according to the highest quantity and quality of traveller reviews gathered over the past 12 months.
TripAdvisor spokesperson Joanne Kershaw said: "Aussies love the beach so for those planning their next sandy getaway, TripAdvisor has identified from millions of traveller reviews, the best beaches throughout the world as well as those right here in our back yard."
For the fourth year running, Queensland's Whitehaven Beach on Whitsunday Island has taken top honours for Australia, while Brazil's Baia do Sancho took out number one spot for best beach internationally.
Chief Executive of Tourism and Events Queensland, Leanne Coddington, said Queensland was a dream destination for Australian and international tourists and draws millions of people every year.
"Queensland is just the place to discover the world's most pristine beaches, with Whitehaven Beach in the Whitsundays a must-do experience for visitors," Coddington said.
"It's fantastic to see our diverse coastal destinations strongly represented amongst TripAdvisor's Top 10 Travellers' Choice awards for Beaches, from Tropical North Queensland to the Whitsundays, Sunshine Coast and Gold Coast. Our reefs, islands and beaches are signature experiences and a drawcard for millions of visitors each year."
TripAdvisor listed 343 beaches from around the world in it's list for 2017, including the top 25 internationally and localised lists for regions including Africa, Asia, Australia, the Caribbean, Central America, Europe, South America, the South Pacific, the United Kingdom and the United States.
Check out the Top 10 beaches around Australia according to travellers, below.
1. Whitehaven Beach -- Whitsunday Island, QLD
2. Surfers Paradise Beach -- Surfers Paradise, QLD
3. Noosa Main Beach -- Noosa, QLD
4. Manly Beach -- Sydney, NSW
5. Turquoise Bay -- Exmouth, WA
6. Burleigh Heads Beach -- Burleigh Heads, QLD
7. Cable Beach -- Broome, WA
8. Mooloolaba Beach -- Mooloolaba, QLD
9. The Strand -- Townsville, QLD
10. Emily Bay -- Norfolk Island
The top 25 beaches from around the world can also been seen here.
ALSO ON HUFFPOST AUSTRALIA