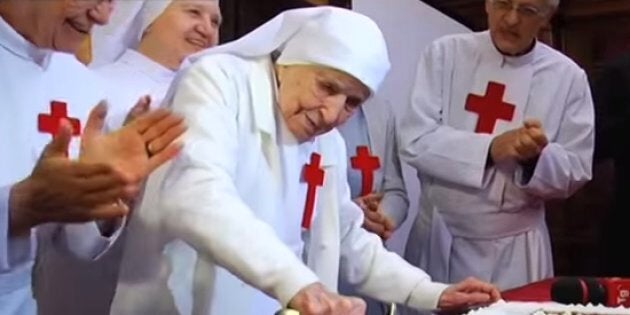 One of the world's oldest women says the key to a long life is love ― but for Sister Candida Bellotti that doesn't mean the romantic kind.
Bellotti celebrated her 110th birthday on Monday surrounded by fellow sisters from her order. Her advice for a long life?
"Love, love and keep on loving. With joy!" the centenarian told journalists gathered for the special occasion at her Tuscan convent.
"Have faith in the future, and put in as much work as you can to make your wishes come true," she added.
Bellotti was born on Feb. 20, 1907 in Verona, Italy. She became a nun with the Ministre degli Infermi di San Camillo, or Camillian nuns, at the age of 24 and also worked as a nurse across the country.
Bellotti has lived through two world wars, 10 popes and 57 Italian prime ministers, as Religion News Service noted.
The Italian nun got to meet Pope Francis on her 107th birthday when she journeyed the 230-some miles to Rome for Mass at Casa Santa Marta. Bellotti shared some tips for longevity on that occasion, too.
"Live a happy life!" the nun urged, adding that true joy comes from accepting things as they are. "True happiness is appreciating the moment as God gives it to us. ... Man needs to accept each moment that comes and say 'thank you.'"
At 110, Bellotti isn't the oldest nun alive. Another woman religious, Sister Marie-Josephine Gaudette, will celebrate her 115th birthday in March. Gaudette was born in New Hampshire but has lived in a convent in Italy since 1958.
Sister Teresita Barajuen, a centenarian nun from Spain, died in 2013 at the age of 105. Barajuen made headlines in 2011 when she left her Spanish monastery for the first time in 40 years to meet Pope Benedict XVI in Madrid.
Another centenarian, Jessie Gallan, died at the age of 109 in 2015 and said the key to a long life was avoiding men. Gallan wasn't a nun, but she never married and swore by a longevity "diet" high in porridge and low in dudes.