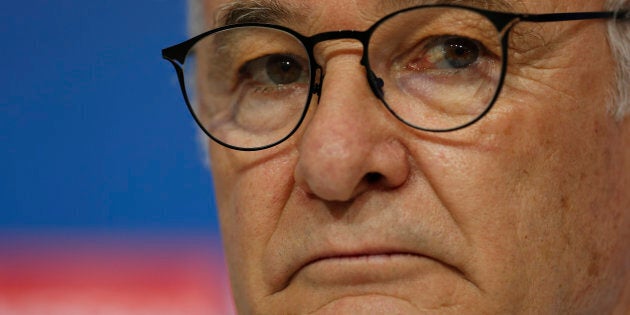 Life is brutal, sport doubly so. Claudio Ranieri, the genial, some would say say genius, 65-year-old Italian manager who engineered Leicester City's impossible triumph in the English Premier League, has been sacked.
But City now languishes in 17th spot in the Premier League, just one spot above the dreaded relegation zone. The bottom three teams each year go down to a lesser league, which is devastating to club revenue and more. No team can afford that -- never mind the ignominy of a fall the year after a title win.
Leicester City didn't use the word "sacked", of course. They used the term "parted ways", as though the manager and club had been strolling along a moonlit beach hand-in-hand before mutually deciding to call things off.
The full statement is below. It's actually quite nicely written, and gives Ranieri all the credit he deserves.
Claudio, appointed City manager in July 2015, led the Foxes to the greatest triumph in the Club's 133-year history last season, as we were crowned champions of England for the first time. His status as the most successful Leicester City manager of all time is without question.

However, domestic results in the current campaign have placed the Club's Premier League status under threat and the Board reluctantly feels that a change of leadership, while admittedly painful, is necessary in the Club's greatest interest.

Vice Chairman Aiyawatt Srivaddhanaprabha said: "This has been the most difficult decision we have had to make in nearly seven years since King Power took ownership of Leicester City. But we are duty-bound to put the Club's long-term interests above all sense of personal sentiment, no matter how strong that might be.

"Claudio has brought outstanding qualities to his office. His skilful management, powers of motivation and measured approach have been reflective of the rich experience we always knew he would bring to Leicester City. His warmth, charm and charisma have helped transform perceptions of the Club and develop its profile on a global scale. We will forever be grateful to him for what he has helped us to achieve.

"It was never our expectation that the extraordinary feats of last season should be replicated this season. Indeed, survival in the Premier League was our first and only target at the start of the campaign. But we are now faced with a fight to reach that objective and feel a change is necessary to maximise the opportunity presented by the final 13 games."

First Team preparations for Monday's Premier League fixture against Liverpool will resume on Saturday, with Assistant Manager Craig Shakespeare and First Team Coach Mike Stowell taking charge of the squad until a new manager is appointed.

Assistant Manager and First Team Coach Paolo Benetti and First Team Sport Science and Conditioning Coach Andrea Azzalin have also parted company with the Club and leave with our thanks for their service and best wishes for the future.

The Board will now begin the recruitment process and will make no further comment until that process is completed.
So it goes in modern sport. And in fairness to the club, a mid-season manager change can often reap instant results.
Swansea City were sitting last on the Premier League ladder earlier this season when they sacked Bob Bradley (the league's first American coach) after just 11 games. They're now 15th and looking healthier.
All the same, it's sad to see Ranieri go. Once highly regarded as a manager, he was seen as washed-up when he came to Leicester. He sure proved the doubters wrong. Leicester's victory was a triumph for youthful optimism as well as the wisdom of age.
That was last year. This is this year. And this year, the magic Ranieri formula clearly is no longer working.
ALSO ON HUFFPOST AUSTRALIA