It doesn't matter if you're vegan or not -- the sound of fuss-free, fluffy, delicious pancakes is music to everyone's ears.
Because pancakes unite people, and everyone loves pancakes. Everyone.
Thanks to powerful documentaries, social media and vegan celebrities, the concept of going vegan has moved away from 'extreme' and towards 'let's do this'.
And now that more chefs, cooks, restaurants and food manufactures are warming up to the lifestyle, we live in a time where you don't have to give up all your favourite foods anymore.
There's delicious, convincing vegan alternatives for pretty much everything. Including cheese. And pancakes.
Here's a must-try recipe for fluffy vegan pancakes, from the Taste for Life cookbook by Animals Australia.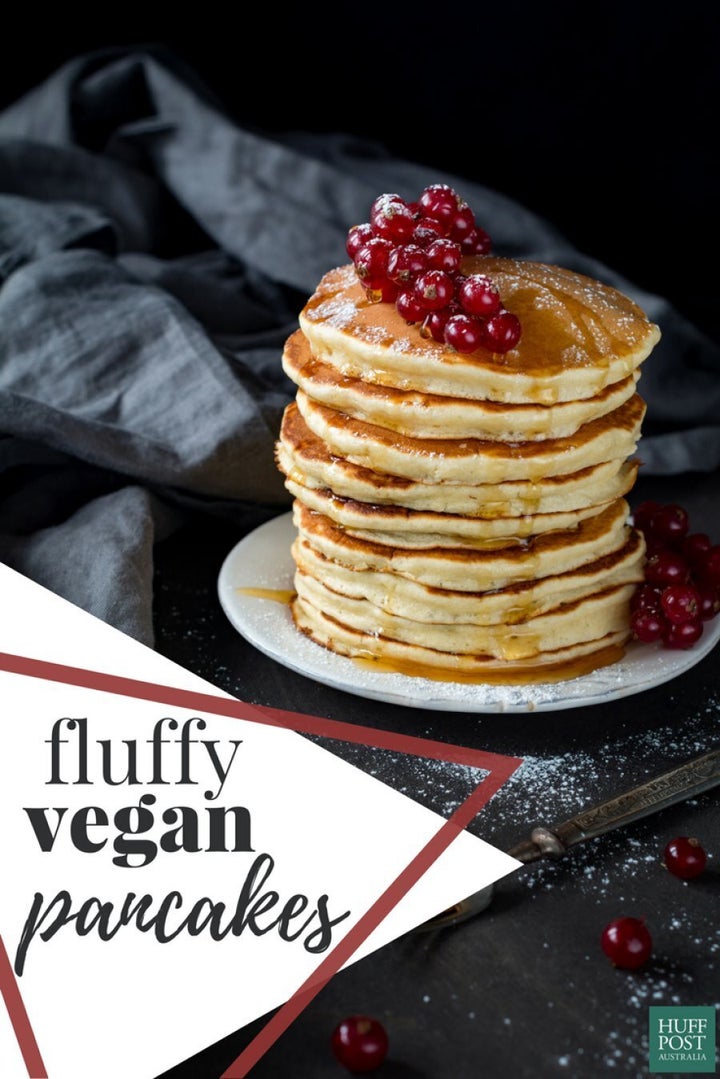 Fluffy vegan pancakes
This no-egg, no-fuss recipe is quick and easy. Serve these fluffy pancakes with maple syrup, lemon and a sprinkling of sugar. Or for a fancy brunch dish to impress your in‑laws, go all out with caramelised banana, brown sugar and rum.
INGREDIENTS
2 tablespoons vegetable oil, plus extra for pan-frying
1 cup plain flour
2 tablespoons sugar
1 tablespoon baking powder
1 teaspoon cornflour
1⅓ cups soy milk, or other dairy free milk, adjust to suit your preference
1 teaspoon pure vanilla extract
METHOD
Lightly oil a non-stick frying pan and place over medium–low heat. If you don't have a non-stick frying pan, use some dairy free margarine to cook the pancakes, along with a little oil.
Combine the flour, sugar, baking powder and cornflour in a mixing bowl. Add a pinch of salt. Gradually whisk in the soy milk, vanilla and the two tablespoons vegetable oil until smooth. If you like your pancakes thinner or thicker, add a little more or a little less soy milk.
Pour about ¼–⅓ cup of pancake batter into the pan. The pancake should start bubbling -- flip it over when it's firm enough to do so. (If you're feeling brave, flip it straight out of the pan and back in again, although it's probably best to practise this first before trying it in front of company!)
Cook and flip again, if needed, until golden on both sides. Remove from the pan and keep warm while cooking the remaining pancake batter. You should end up with 6–8 pancakes.
Serve warm, with your choice of toppings.
Tip: the right heat can make all the difference. If your pancakes aren't bubbling, try turning the heat up slightly. If they are burning, turn the heat down.
Recipe and image from Taste for Life by Animals Australia. Published by ABC Books, available in store or online.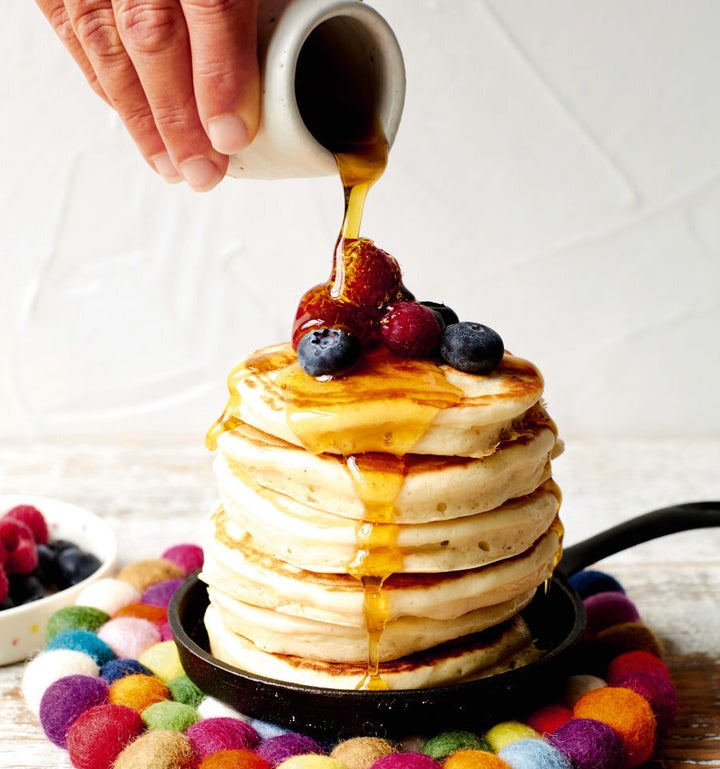 ALSO ON HUFFPOST AUSTRALIA