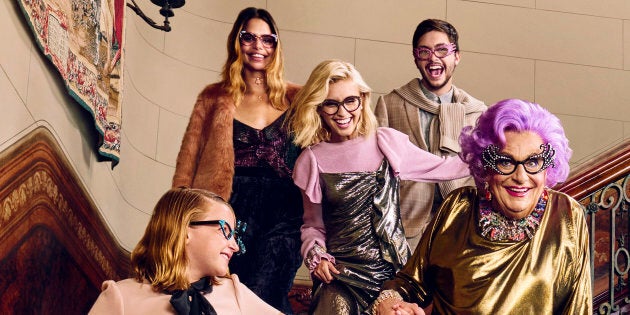 She's spoken about him in the past, but Dame Edna's son Kenny has always been a mystery. Until now.
In the Autumn Winter 17 Westfield campaign which debuted Sunday, Dame Edna -- who is an ambassador for the retailer this season -- revealed that Kenny is actually Christian Wilkins, Richard Wilkins' son, who also goes by the name of The Prince.
It gets stranger. The campaign, which is all about family, also features Sarah Ellen, Samantha Harris and Lachlan Robertson as well as sisters Elektra and Miranda Kilbey (AKA Say Lou Lou).
You'll also spot Vicki Lee, Ted O'Donnell and their daughter Yoki, as well as fashion photographer Harold David with husband Andy Medina and their two sons Henry and Franklin.
Also in Dame Edna's Westfield brood is artist and fashion commentator Kitty Callaghan and brothers, Monty, Sam and Cal.
That's quite the (faux) family!
"I'm a Gigastar, but I'm also a family woman, very happily widowed, a National Treasure and a Fashionista but there is nothing I like more than sitting at home, having a modest snack in one of my smaller dining rooms, surrounded by my adoring peeps. True style isn't something that changes like Melbourne weather, it is timeless and unchanging like an attractive birthmark, or Donald Trump's hairstyle," Dame Edna said in a brand statement.
The epic shoot is set at 'Swifts', a Gothic Revival mansion in Sydney's Darling Point, and shows Kenny dressed in dressed in Givenchy, alongside the Dame in new season Carla Zampatti.
You'll also spot wares by Bec & Bridge, Sass & Bide, Gucci, Paul Smith, Salvatore Ferragamo, Cotton On, Seed, Country Road, Witchery, Betts, CUE, Veronica Maine, Zara, H&M, Trenery, Top Shop, MJ Bale which will be in store this season.
It's definitely something different, that's for sure.
ALSO ON HUFFPOST AUSTRALIA