The 89th Academy Awards went out with an embarrassingly loud bang after 'La La Land' was incorrectly announced as Best Picture, before the mistake was corrected mid-acceptance speech and the true winning film, 'Moonlight', was revealed.
A 'La La Land' producer grabbed the winning trophy back from his colleagues and took to the mic saying, "the winner is 'Moonlight', this is not a joke".
He continued: "I'm proud to hand this to my friends at 'Moonlight'."
Announcer Warren Beatty quickly made amends by explaining what had happened upon opening the envelope.
"I opened the envelope and it said Emma Stone, 'La La Land'. That's why I took such a long look at Faye and at you. I wasn't trying to be funny," he explained.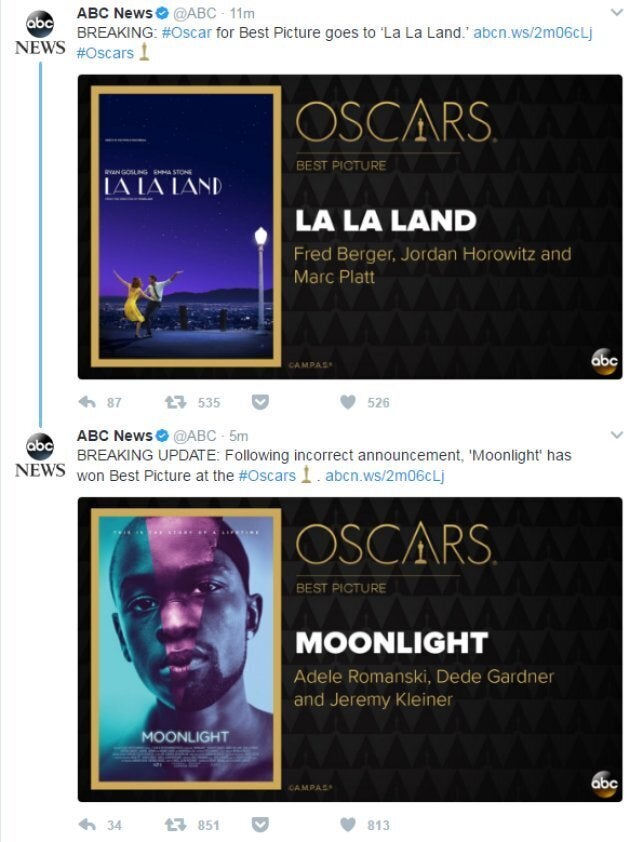 Meanwhile, the internet reacted accordingly.
It sure was a wild ride. 'Til next year!
The full list of winners are below.
WINNER -- Mahershala Ali (Moonlight)
Jeff Bridges (Hell or High Water)
Lucas Hedges (Manchester by the Sea)
Michael Shannon (Nocturnal Animals)
WINNER -- Viola Davis (Fences)
Naomie Harris (Moonlight)
Octavia Spencer (Hidden Figures)
Michelle Williams (Manchester by the Sea)
WINNER -- Damien Chazelle (La La Land)
Denis Villeneuve (Arrival)
Mel Gibson (Hacksaw Ridge)
Kenneth Lonergan (Manchester by the Sea)
Barry Jenkins (Moonlight)
WINNER -- Casey Affleck (Manchester by the Sea)
Andrew Garfield (Hacksaw Ridge)
Ryan Gosling (La La Land)
Viggo Mortensen (Captain Fantastic)
Denzel Washington (Fences)
WINNER -- Emma Stone (La La Land)
Meryl Streep (Florence Foster Jenkins)
Best Foreign Language Film
WINNER -- O.J.: Made in America
WINNER -- Manchester by the Sea
WINNER -- Audition (La La Land)
Can't Stop the Feeling (Trolls)
City of Stars (La La Land)
The Empty Chair (Jim: The James Foley Story)
Achievement in Visual Effects
WINNER -- The Jungle Book
Rogue One: A Star Wars Story
Achievement in Sound Mixing
Rogue One: A Star Wars Story
13 Hours: The Secret Soldiers of Benghazi
Achievement in Sound Editing
Pear Cider and Cigarettes
Fantastic Beasts and Where to Find Them
Achievement in Costume Design
WINNER -- Fantastic Beasts and Where to Find Them
Achievement in Makeup and Hairstyling
Best Documentary Short Subject
WINNER -- The White Helmets
ALSO ON HUFFPOST AUSTRALIA