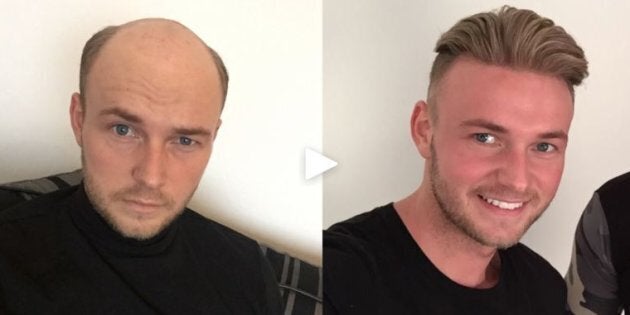 What do you picture when you hear the word 'toupee'? An old man trying to one-up his comb over? A tuft of hair flying off in a gust of wind?
Well, there's a pretty intriguing video doing to rounds at the moments which shows what we can only call an 'upmarket male hairpiece' in action.
Quiff & Co, makers of the hair piece, was founded by a young male couple based in Surrey, England.
"After many years of seeing family and friends dealing with hair loss, trying everything on the market, from hair transplant surgery, visiting hair loss clinics for medications, ointments and potions, nothing seemed to deliver a full perfect head of hair," they said in a brand statement.
"Over the last seven years, we have developed our knowledge in non surgical hair replacement. In 2015, we had over 300 messages from men who wanted help with their hair loss, so we decided to share our secret."
While they're not cheap -- setting you back just under AUD$2000 -- girls have been paying those sorts of pieces for hair extensions for years. Plus, it's waterproof, so the possibilities are endless.
ALSO ON HUFFPOST AUSTRALIA