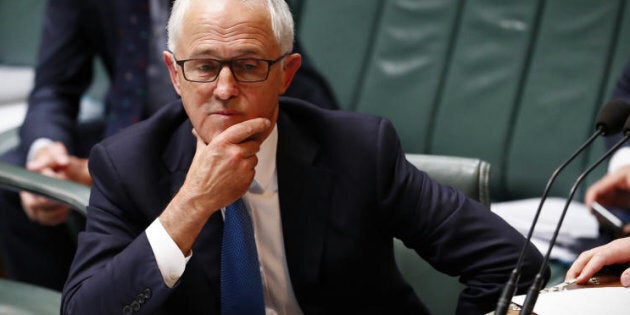 CANBERRA -- It is an issue that just won't damn flush.
Which politician wants to own, or be seen as, supporting the cutting of penalty rates for hundreds of thousands of Australian workers?
Not the Prime Minister. Not the Treasurer.
And not the government backbenchers like Ann Sudmalis -- even thought she was directly quoted saying the Fair Work Commission's decision was a "gift" to young people as it was "opening the door" on more jobs.
Liberal Democrat Senator David Leyonhjelm is cheering it on and the former Workplace Relations Minister Eric Abetz has offered helpful (but rejected) advice about protecting current penalty rates.
Small business and the Institute of Public Affairs want it, saying "penalty rates are a penalty on jobs".
While government backbencher Craig Kelly really does not mind.
Labor is trying very hard to make the Fair Work Commission's decision stick to the Prime Minister, hammering away at Turnbull at every opportunity to either support it to stop it.
But it is not a great issue for the Opposition Leader and former union leader Bill Shorten either. As pointed out by the government, as Workplace Relations Minister, set the process in train to get penalty rates reviewed by the Commission.
The Prime Minister insists the Commission is the independent umpire and is trying to return fire but calling the Labor Leader a hypocrite for essentially going after the Commission's independence.
"We support the independent umpire and therefore, their decisions should be respected and accepted," Turnbull told the ABC's Sabra Lane on Thursday.
"That is exactly what Bill Shorten had always said. I know you don't like me saying that, but the fact is he's a back-flipper and he's a hypocrite on this."
But does Turnbull support the decision, when the argument goes it will create jobs.
"I support the Commission," the Prime Minister said.
"That is not a judgement that we have taken," Turnbull insisted.
"Because I haven't been through all the evidence, the Government hasn't been through all the evidence, in the way the Fair Work Commission has. That's their job," he replied.
"Well it is a decision of the Fair Work Commission."
"I believe Australians understand this is a decision of the Fair Work Commission."
And that may not be true.
Even as Turnbull heads out into the various media channels to get back on track, it may not even matter who or what made the decision. Vulnerable workers are about to get a pay cut and, come the next election, politicians may find themselves the target of revenge.