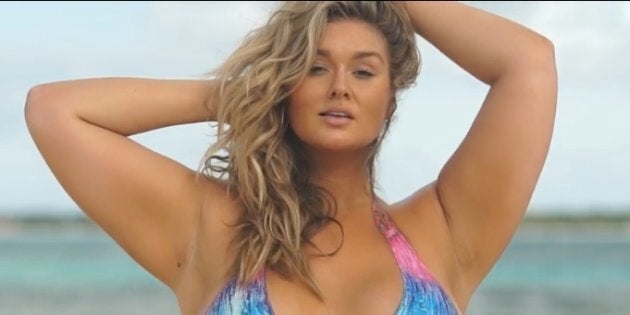 Hunter McGrady is a breath of fresh air in this year's Sports Illustrated swimsuit edition.
The 23-year-old model, who is the curviest model to ever shoot for the magazine, doesn't mind the term "curvy." But don't ever try to label her as "plus size."
'Plus size' has just gotten this dirty stigma. But I would love no labels [at all]," the model told People magazine in a recent interview. "I would love to be able to tell people that I'm a model, and not have to clarify that I'm a plus size model."
McGrady added, "I think it's a form of segregation. I think it sets us back so many years, and I would love to completely get rid of it, and it may not happen, but we're working on it."
After landing a gorgeous spread in SI, the young model proved she's a body diversity champion by sending an inspiring message to women.
"The fact that they're using a curvy model for one of the model searches is beyond my wildest dream," she said in a video for SI. "I'm doing this not only for me, but for every woman out there who has ever felt uncomfortable in their body and who wants and needs to know that you are sexy."