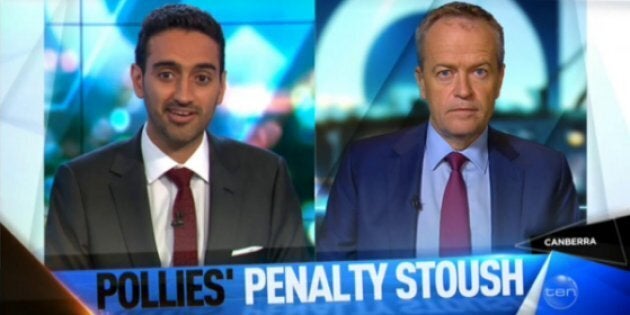 Channel Ten presenter Waleed Aly has called out Federal Opposition leader Bill Shorten for contradicting his election promise to accept the results of an independent tribunal into penalty rates.
Appearing on The Project, Shorten was pressed by Aly on the issue after the Coalition government called him a hypocrite for promising during the 2016 election to accept any suggestions of a Fair Work Commission into penalty rates, only to now call it an "assault on workers" and reject the cuts.
"Bill, the exchanges are flying, as you might expect. You've said this is the Government's assault on workers. They've said you're a hypocrite because you helped bring the Fair Work Act into being and you have to own this decision. It seems like they are making a fair point?" Aly asked.
"No, not at all. The penalty rates changes the Fair Work Commission has made are due to initiation by employers to lower penalty rates," Shorten replied.
"The issue here is the Government can step in and change the decision, which is cutting penalty rates, but they're sitting on their hands. If they sit on their hands they're supporting the cuts."
But Aly would not let the conversation end at that, playing a radio clip of Shorten during the election last year promising to stand by the tribunal and then asking him if the only reasoning for his backflip is that he isn't Prime Minister.
"No. The difference is that no-one in their right mind seriously expected 680,000 people to have their Sunday rates cut," Shorten said.
"This decision is a significant departure from what they've done in the past. I do believe in the role of an independent tribunal but when they get the decision wrong, Labor's not going to stand by and say it's all too hard."
"To paraphrase, I will accept the independent umpire's decision, unless they make a decision I don't like?" Aly hit back.
"To paraphrase, when you cut 680,000 people's penalty rates, the Labor Party will not support a wage cut," Shorten responded.
And so the conversation went on.
Aly then suggested Shorten should have been clearer in his promise on the Commission during the election while the Opposition leader continued to stand by his party message to "not give up" on workers.
You can watch the full exchange below.
Despite his promises in 2016, Shorten also admitted the decision by the Fair Work Commission caught him off-guard as heavy-handed, but denied he would consider abolishing it.
"I've got to say this decision caught us by surprise. When you get a decision which you hadn't anticipated, you can ignore the decision like the Government or you stand up," he said.
"The Commission has been there since 1904. The Commission has done something which, I think it is reasonable to say, that most people didn't expect them to do.
"I think the commission most times gets the decision right. But in this case you have corporate profits being the highest they've been in 40 years, and you've got wages growth flat-lining, the lowest growth in wages in 20 years, we want to pass a law which will say to the commission that this decision shouldn't go ahead and they shouldn't have the ability to reduce people's take-home pay. Full stop."
The decision to cut penalty rates, announced on February 23 after a lengthy process of consultations and submissions since 2015, the Commission decided to cut penalty rates after employer and business groups argued that Sunday penalty rates of double time pay should be trimmed back to the Saturday rate of time-and-a-half or at least time-and-three-quarters.
ALSO ON HUFFPOST AUSTRALIA