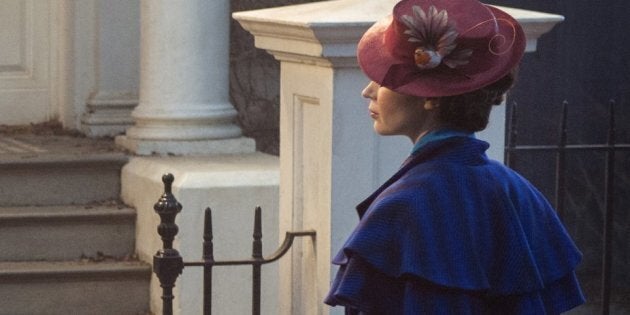 We don't use this term lightly, but the first photo of Emily Blunt as Mary Poppins is simply supercalifragilisticexpialidocious.
Filming for "Mary Poppins Returns," the sequel to the beloved 1964 movie musical, is currently underway. On Friday, Disney gifted us with a production still of Blunt in full Poppins regalia.
Presumably standing outside the Banks family home, the photo features Blunt's Poppins looking a bit more chic than the character that Julie Andrews played on-screen. The titular nanny is dressed in a deep blue coat, bright teal gloves and a rose-colored hat finished with a small bird. Yes, gone are the days of the famous Poppins flower crown. Also, we need her vintage multicolored weekender in our hands immediately.
With the truly magical casting of the "Girl on the Train" actress as Poppins and "Hamilton" maestro Lin-Manuel Miranda as her lamplighter friend named Jack, the project is shaping up to be one of the most anticipated films on the horizon.
Directed and produced by Rob Marshall, "Mary Poppins Returns" reunites P. L. Travers' iconic nanny with the Banks children, Jane and Michael Banks, years after the original film in Depression-era London. The children, now played by Emily Mortimer and Ben Whishaw, need Poppins more than ever after the family suffers a loss. The film also stars Colin Firth, Angela Lansbury, Julie Walters and Meryl Streep as Poppins' cousin Topsy.
"Mary Poppins Returns" hits theaters Dec. 25, 2018.