In case you haven't heard, Adele is currently taking the country by storm -- and her concert in Brisbane this weekend were no different. In true style, zingers were flying from all directions.
First things first, the Grammy awarding-winning songstress is married.
On Saturday night at the Gabba -- aka the Brisbane Cricket Ground -- Adele let slip that she has tied the knot with her long-term partner Simon Konecki.
The pair began dating back in 2011, and Adele gave birth to their son one year later. Over the years, she has garnered a reputation for keeping details of her relationship close (and her son closer), despite a string of media reports.
Chatting with a huge crowd while introducing her hit single 'Someone Like You', all rumours have been put to rest.
That feeling when you first fall for someone is the best feeling on Earth. I am addicted to that feeling. Obviously I can't go through with those feelings because I'm married now.
"You know when you first meet someone, and everything about you just feels alive?" Adele asked the audience. "I wanted to go back to that and that's what this song is about. It is sad, and it is heartbreaking, but it's also about being grateful and blessed for the chance to have certain people in your lives."
"...Obviously I can't go through with those feelings because I'm married now. I've found my next person."
Adele's onstage chatter ends speculation following the songstress' acceptance speech at the Grammy Awards last month. Taking 'Album of the Year' she dedicated her gong to "my husband and my son -- you're the only reason I do it" -- but did not comment any further.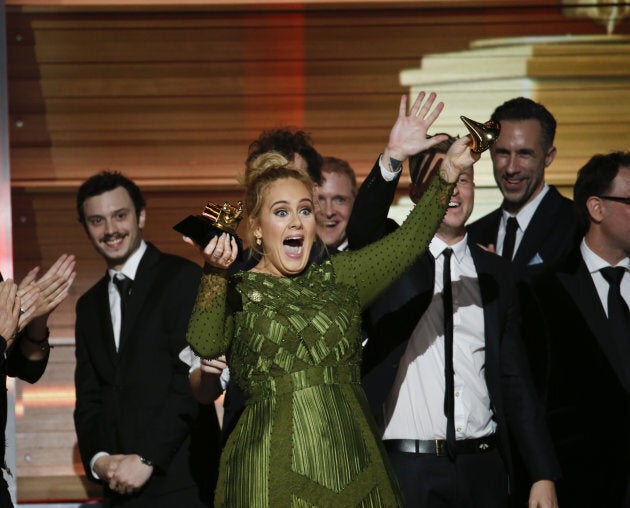 Known for pulling out those straight-talking zingers, Adele kept them coming on Saturday night, telling Brisbane's mayor to "shut up" with his "bloody moaning" over the Gabba concert.
In the lead up to the first of her two shows in the 'Sunshine State,' Lord Mayor Graham Quirk and his deputy Adrian Schrinner were concerned about the logistics of moving 60,000 concert goers to The Gabba by bus.
Adele was having none of it.
"I know there was a bit of controversy about me playing at The Gabba," Adele said.
"I think they should shut up with their bloody moaning, f**king hell. Shut up! I come from f**king London. I'm happy to be in Brisbane."
Filling up the cricket ground for the first time since its redevelopment, Schrinner said the claims were not targeted at the artist herself, but at the event coordinators, according to the ABC.
"I'm glad that she's taking notice of this sort of stuff," he said. "The event organisers haven't crowned themselves in glory. Ultimately, the venue selection seemed to be about cramming as many people in as possible rather than thinking about the logistics."
Safe to say Queensland police were less concerned -- although still pragmatic -- in their attempts to encourage concert-goers to plan their journey.
ALSO ON HUFFPOST AUSTRALIA