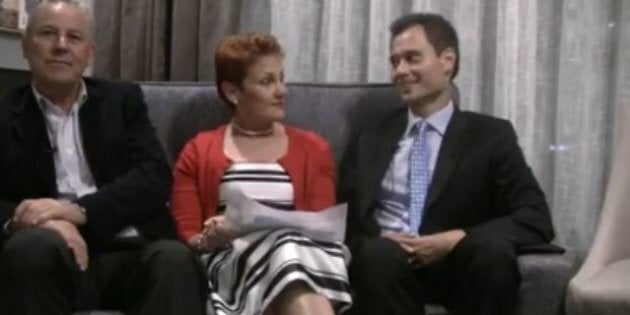 Pauline Hanson had an embarrassing blunder just 30 seconds into a video promoting One Nation's West Australian election campaign, getting flustered and stumbling when she had to pronounce the name of a Chinese candidate.
Tshung Chang is running for the seat of Riverton in Saturday's election. He would have been thinking he'd got a big tick of approval and a helping hand from the party leadership when he was asked to participate in a Facebook Live video on Hanson's page on Sunday night, with the One Nation leader herself and state party leader Colin Tincknell.
Unfortunately, what would have been his first introduction to many of Hanson's 192,000 Facebook followers was soured when Hanson couldn't work out to say his name (for the record, Tshung is pronounced like "shoong", with the 'T' being silent).
There was a terrifying moment as Hanson turned from Tincknell and looked at Chang, her eyes going wide and her head cocking to the side, as if she was desperately hoping he would say his own name for the benefit of the camera.
She starts to whisper the beginnings of his name -- "sh...?" -- then laughs in embarrassment. Chang himself also looks a bit sheepish, quite understandably, with his party leader either forgetting his name or just plain not bothering to learn it before the camera turned on.
"Yes, Tshung. I'm sorry, this pronunciation, it's my fault, it's not yours. Let's get it right," Hanson says, as she repeats his name several times just to hammer it home, a strategy which may have been more useful to employ before the interview rather than during it.
"Tshung. Tshung. I do apologise. Tshung," she laughs again.
Chang is of Chinese heritage, with his Facebook page saying he has experience working in Hong Kong and is fluent in Mandarin and Cantonese. He might seem an odd fit for a party whose leader famously said Australia was being "swamped by Asians", but said Hanson was a different politician these days.
"Yes I do, I think that was the infamous speech, however that was I think 20, as you rightly said, 25 years ago and I think she's actually become more and more experienced since then and the views back then are not reflective of what they are today because of her life experiences," he told the ABC in January.
"Pauline has got nothing against Asians, nothing against Asians that work hard, that come here and are good citizens.
ALSO ON HUFFPOST AUSTRALIA