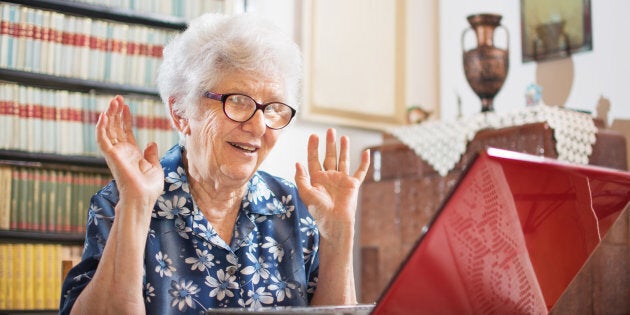 In the eyes of a grandmother, her grandchildren can do no wrong - so what would happen if nana was given free reign over her grandkid's Tinder profiles?
Completely innocent hilarity, most likely.
From the granny who would type the whole damn bio with caps lock on, to the lady who thinks Tinder is a nice man (adorable), prepare to relate, hard.
1. The Caps-Locker
'SMART BOY HE'S MY BOY IS THE MOST HANDSOME BOY AND VERY SWEET. HE WILL TREAT U RIGHT TAKE YOU TO DINNER OR MOVIE. WHEN HE WAS LITTLE HIS FAVOURITE RESTAURANT WAS CHILIS. HE LIKES STEAK AND HE LIKES IT WHEN IT RAINS.'
2. The Detailed One
'Archaeob is a very nice young lady. She is letting me live in her room while she is away at school and that was very kind and generous of her. She was a very cute baby, but her sister grew up to be prettier. Very very smart as well. She does well at school but refuses to give me senior discounts when we play Monopoly, so be careful. She is looking for a nice young man, and hopefully one that does not paint his fingernails like her sister's boyfriend.'
3. The Adoring One