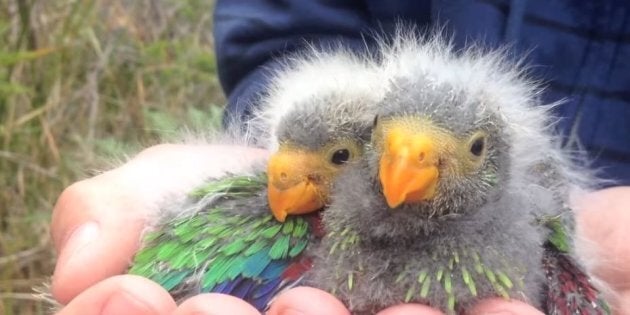 Buried way down in the detail of this week's State of the Environment report -- a five yearly government-commissioned report which has been produced since 1996 -- was an unpleasant fact.
The number of critically endangered Australian bird species has risen from six to 13. One of those is the Swift Parrot. There are less than 2000 of these adorable little guys left.
Will it shock you to learn Swifties are the world's fastest parrot? They're also one of the world's smartest, who do one of the cleverest bird things we've ever heard of. We're about to tell you all about that. First, a dose of Swiftie cuteness.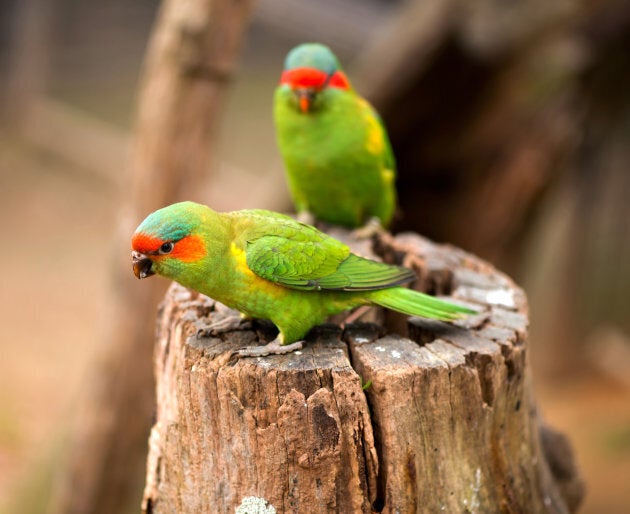 Below you can see a Swiftie eating nectar from Eucalypt flowers. Unlike most parrots -- which prefer seeds -- Swifties are nectar lovers. In fact it's pretty much all they eat. And that's where their troubles begin...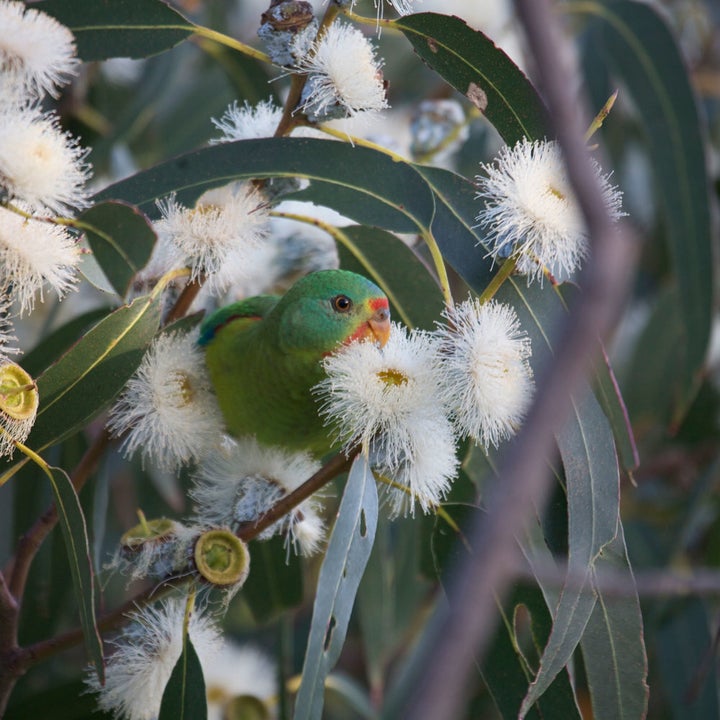 Dr Debbie Saunders of the Australian National University studies Swifties. As she told us, these colourful little characters nest in Tasmania, but travel as far as eastern South Australia and southern Queensland in winter as they look for food.
"They are quite unique. There are hardly any migratory parrots in the world," Saunders said.
But why travel so far afield? Ah, well that would be because they subsist almost entirely on eucalypt nectar. But eucalypts don't always flower every year, or even at a predictable time of the year if conditions are dry. So the Swifties have to be prepared to forage far and wide from their Tasmanian homes in search of nectar.
But how do they know where to go? This is the fascinating bit.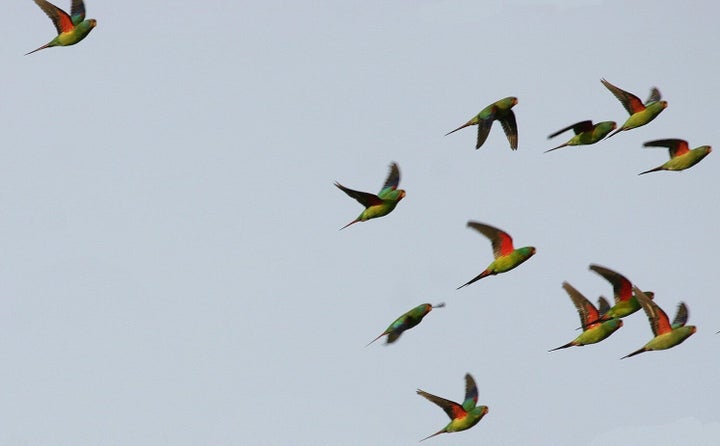 According to Dr Saunders, the Swifties fan out in different directions in search of food on the mainland. They then gather together in mass roostings of hundreds of birds, and appear to share the information.
That's right, just like humans gathering online to share info about the cafe that just opened up on the corner, Swift Parrots get together to tell each other where lunch is good. Which as we've said, is very clever.
But it's also quite poignant, because the fewer Swifties remaining out there in the wild, the less chance they'll bump into other Swifties who can share info about food sources.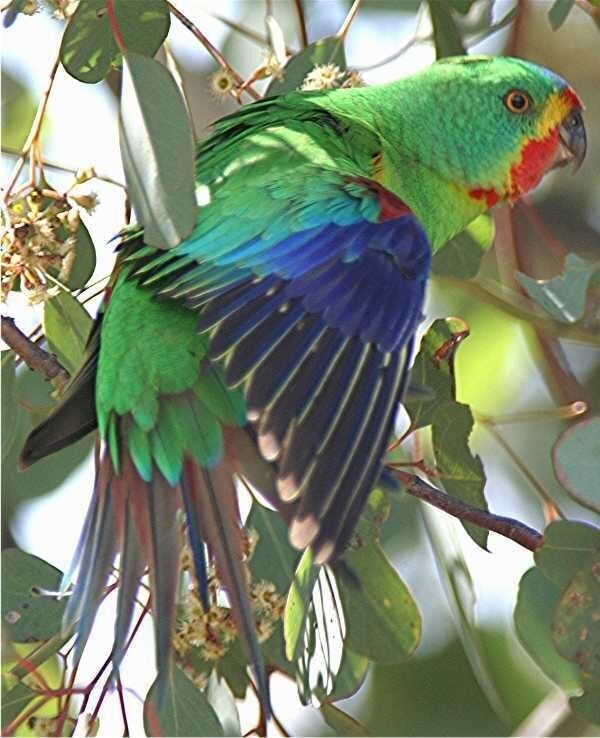 Oh, did we mention that they're really messy eaters?
"When it goes to get nectar in a flower, it gets pollen all over its face," Dr Saunders said. "They're actually really good pollinators. They pollinate trees over really large areas."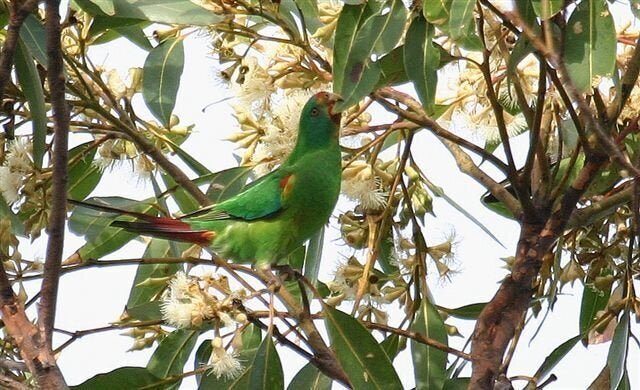 So why are Swiftie numbers plummeting so low? Well, habitat loss is one pretty obvious reason. Old growth forest logging continues in Tasmania, and Swifties nest and breed in the hollows which only old trees provide.
But the main reason Swifties are now so critically endangered is because of a predator no one saw coming: Sugar gliders.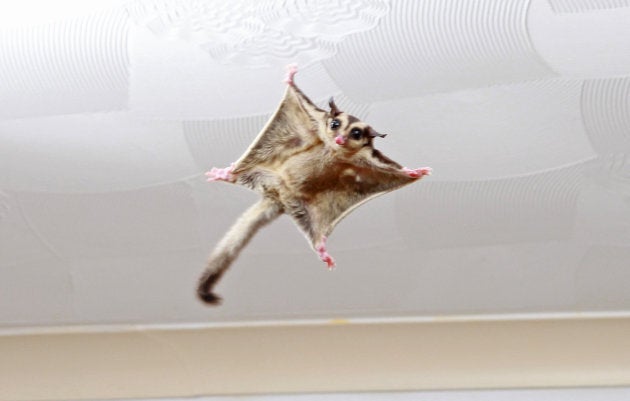 Sugar gliders are omnivorous possums who are native to the Australian mainland, but not Tasmania. They were introduced last century and have had a devastating effect on Swifties.
"It's a cute gorgeous little mammal which is small and agile enough to get where no native predators can," Dr Saunders said. "It can get in there and will kill the mothers and the nestlings in the nest."
Recent research by a member of Dr Saunders' team showed that up to half of adult females were eaten in a single breeding season in Tasmania. There are a couple of glider-free islands off the coast off Tassie where Swifties can breed in peace, but more glider-free territory is needed.
More old growth forests are needed too, both in Tassie and on the mainland. Land clearing and logging is a problem for countless species; you can add Swift Parrots to that list.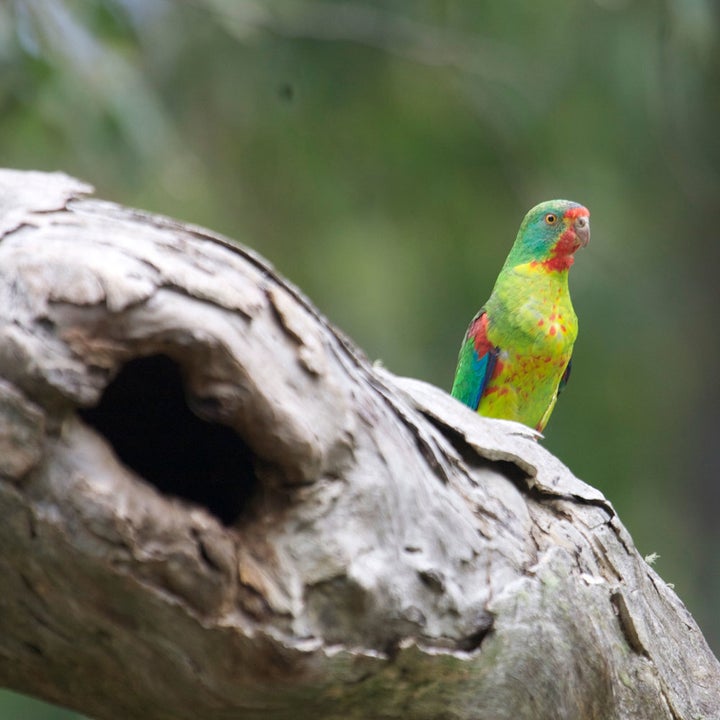 But Dr Saunders has a plan.
"Because this bird moves around so dynamically, we came up with the idea of using a drone to track their movement," she explained.
By doing that, the team can help identify areas in need of protection and continue to increase our understanding of the birds too. There is, however, one thing Dr Saunders understands only too well about these birds.
"They're very charismatic. They're a bit like a larrikin having a good time in trees."
Long may it be so. Because right now, these beautiful parrots are perched on the brink.