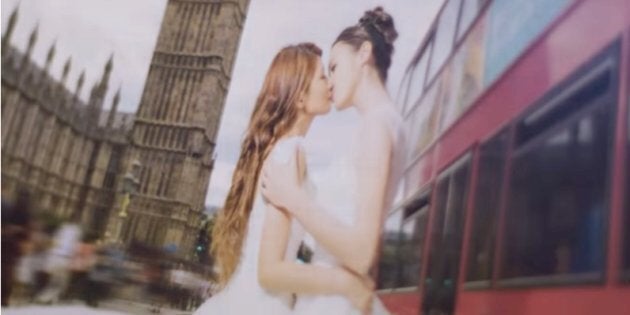 Meet Taiwanese same-sex couple Jennifer and Sam. They have identical birth dates and have been in a relationship for 11 years. And their moving love story is heartwarming, to say the least.
In preparing for their wedding, Jennifer was devastated by the news that her parents would not be attending because her father does not support LGBTQ relationships.
Until her boss at financial services company HSBC stepped up and offered to walk her down the aisle on her special day.
In an emotional video, both Jennifer and Sam said they were initially afraid of coming out as gay for fear of being picked on and for the ramifications it could have on her work and family life.
"Before we came out we were always afraid. We were hesitant to talk about it because we were worried people might make fun of us," Jennifer said.
"I worried most about work. I was concerned it would stop clients banking with HSBC, so I considered it very carefully and realised that some clients were very supportive.
"What troubled me most was my parents because they are strongly against it.... My parents have stopped communicating with me and will not come to my wedding."
Jennifer also goes on to explain her father refuses to talk with Sam when he sees her and that she had considered faking a heterosexual marriage to make him happy.
On the day of their wedding when the doors to the reception opened, the pair were visibly emotional while HSBC Taiwan CEO John Li walked them down the aisle and told them to not be nervous.
"We cried because we never thought we would make it this far. We had a lot of mixed feelings," Jennifer said.
The couple's relationship is yet to be considered legal in Taiwan, however Jennifer and Sam say they want their wedding to act as a message for other LGBTQ couples to gain encouragement to do the same.
"In Taiwan we see so many people being discriminated against," Jennifer said.
"This wedding is really for the LGBTQ community. We hope our action will encourage people and create respect among different communities."
And if that doesn't show you that love is love, we're not quite sure what will.