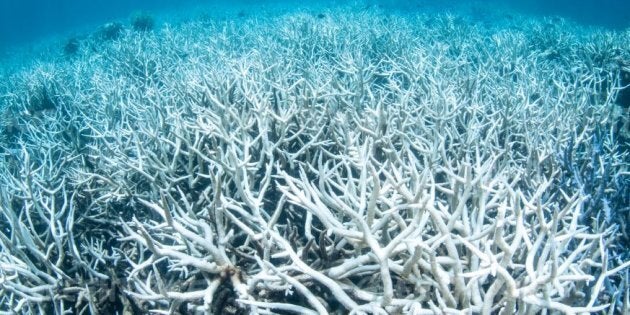 These are the shocking images that prove the Great Barrier Reef is in trouble -- again.
The images were taken by marine biologist and conservation photographer Brett Monroe Garner, who documented the latest round of coral bleaching in conjunction with Greenpeace.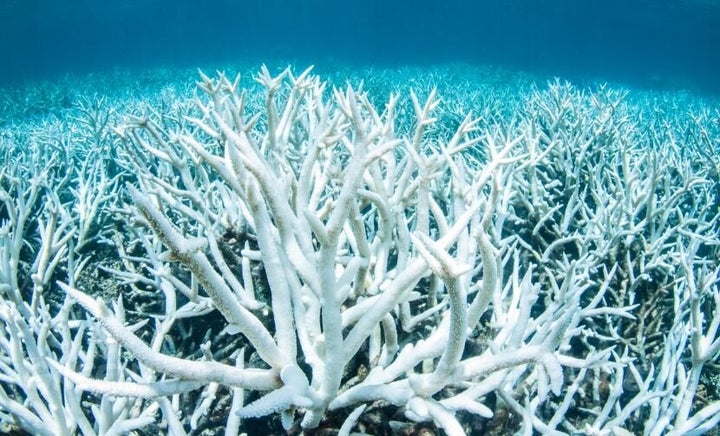 "I've been photographing this area of the reef for several years now and what we're seeing is unprecedented," Garner said.
"In these photos nearly 100 percent of the corals are bleaching, and who knows how many will recover. Algae is already beginning to overgrow many of the corals.
"Just a few months ago, these corals were full of colour and life. Now, everywhere you look is white. The corals aren't getting the chance to bounce back from last year's bleaching event. If this is the new normal, we're in trouble."
Coral bleaching occurs when corals expel the algae living in their tissues when water is too warm. The coral need the algae for energy. Without them, they begin to starve and turn a ghostly white.
Coral can survive for a while after bleaching, but generally die off within about two months. According to the Australian Institute of Marine Science, 22 percent of the entire Reef died in 2016.
Tragically, bleaching is becoming more commonplace due to climate change.
The current sea temperature off Port Douglas, north of Cairns, on Thursday this week was 30 degrees. The average for March is 28.5. Water temperatures have now been above average for at least 12 months in north Queensland waters.
The Huffington Post Australia has contacted the Australian Institute of Marine Science for information on whether these photographs, which were taken in late February, are evidence of a greater current trend across the reef. We'll update this story when they get back to us.
ALSO ON HUFFPOST AUSTRALIA