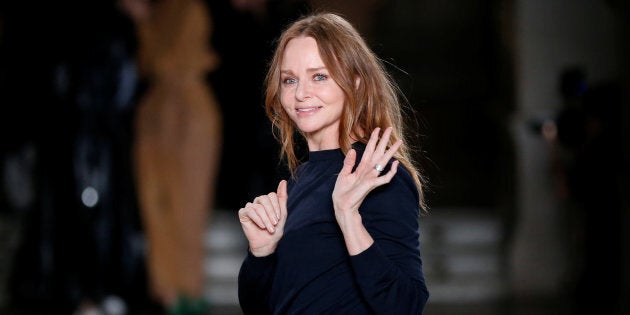 Stella McCartney continues to prove it's possible to design luxury collections with cruelty-free fashion.
Showcasing her A/W17 collection during Paris Fashion Week on Tuesday 7 March, the longtime advocate of animal welfare debuted a leather alternative material, calling it "skin-free skin".
Although her brand is based in Britain, McCartney has always out-sourced many sustainable materials and animal-friendly fabrics since her label's inception. Having become somewhat of a pioneer for change within the fashion industry in recent years due to her success.
From sophisticated tailoring and brown chequered tweeds to über-luxe looking fabrics, McCartney pulled off the impossible by creating a product that really looked like leather - but isn't.
"Until recently, I avoided using fake [leather] because it never looked luxurious enough," McCartney told The Guardian.
"I am so excited that we have finally developed fabrics that look just as good as the real thing and therefore genuinely pose a question to the industry about why anyone needs to use leather any more."
Speaking to PETA UK, they too commended her work:
"We take our vegan hats off to Stella McCartney, who has once again used fabrics that never bled to showcase modern luxury fashion," said Elisa Allen, Director of PETA UK.
"With a variety of lavish, high-end vegan materials available, there's simply no justification for wearing the skins of tortured animals, and that's why designers are increasingly using their talents to be a creative force for good."
Adding a heart-warming moment, the designer also paid tribute to the late George Michael with a diversified group of models singing to his hit 'Faith'.