When the weather turns grim and cold, there's a few things we often do: a) struggle to get out of bed, b) make plans to stay in said bed, and c) eat comforting, hearty food. In bed, ideally.
For the sake of not falling asleep right this second, let's focus on the third point. Comfort food -- and more specifically, anything with potatoes and cheese.
Enter this comforting potato bake recipe from Food To Make You Glow by Lola Berry. It tastes just like the cheesy, cream-filled original, but with a few healthy twists: keep the skins on the potatoes and use almond milk instead of sour cream.
"Keeping the skin on the potatoes lowers their glycemic index, meaning they won't give you the same dramatic spike in blood sugar levels that you would otherwise get, as they release their energy slower. Plus, the skin is where you'll find all the nutrients and fibre," nutritionist and author Berry said.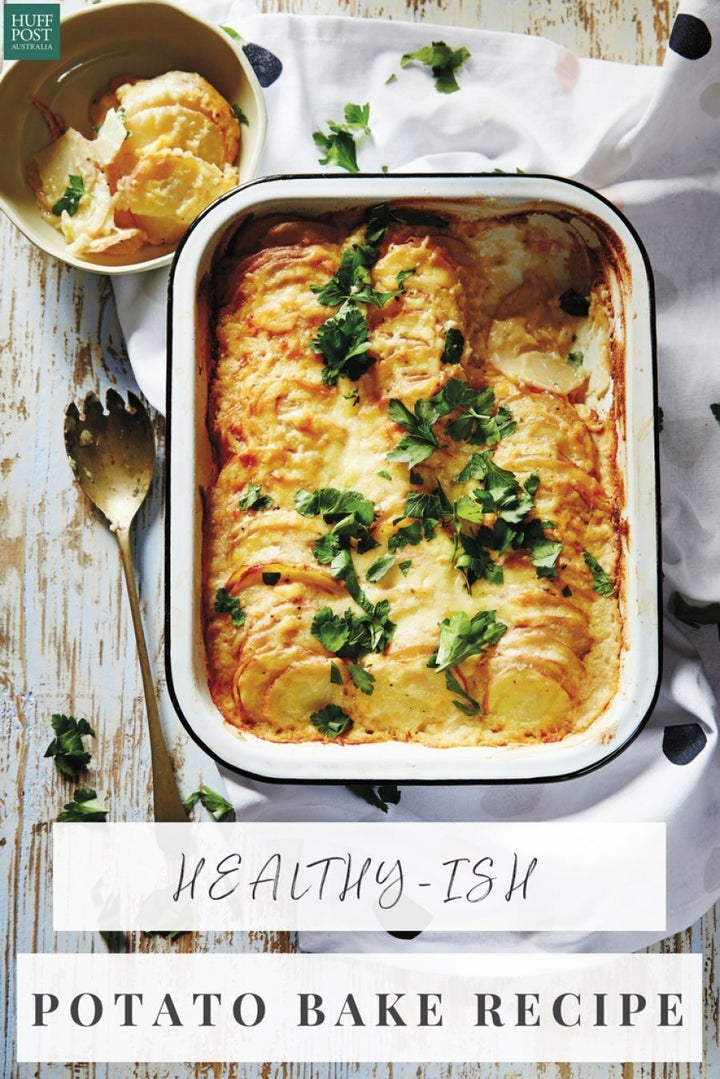 INGREDIENTS
3 tablespoons butter
3 tablespoons quinoa flour
Salt flakes and freshly ground black pepper
1 cup almond milk
3 garlic cloves, finely diced
1 cup grated Pecorino (or cheddar)
5 potatoes, skin on, thinly sliced
Flat leaf parsley leaves, to serve
METHOD
Preheat the oven to 180°C.
Melt the butter in a saucepan over a medium heat, add the quinoa flour and stir everything together to form a paste. Season to taste and, while stirring, add the almond milk, garlic and half the cheese to make a thick, pasty sauce. The cheese should be melted and well combined.
Arrange an even layer of spud discs on the base of a baking dish, then spoon over a thin layer of sauce and spread evenly. Repeat the layers of spuds and sauce until you run out of ingredients, then top with the remaining cheese and bake for 45 minutes to one hour, or until golden brown on top and bubbling. Remove from the oven, top with a handful of parsley leaves and serve.

Recipe extracted from Food to Make You Glow by Lola Berry. Available now, RRP $39.99, Plum.
ALSO ON HUFFPOST AUSTRALIA