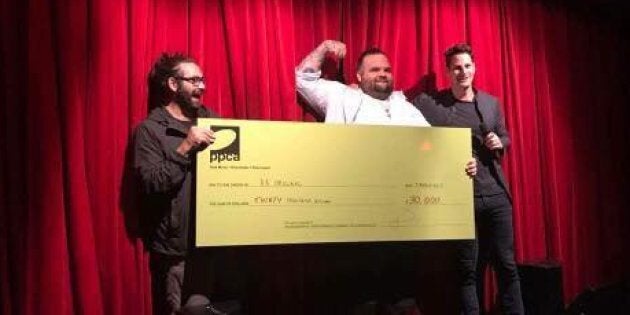 Incendiary indigenous rap duo A.B. Original have won the prestigious Australian Music Prize, taking home a $30,000 cheque.
The group, of rappers Briggs and Trials, burst into the spotlight last year with their debut album Reclaim Australia. The album's lead single 'January 26' generated controversy over criticising Australia Day, in which the act compared commemorating the arrival of British settlers and the beginning of the killing of thousands of Aboriginal people, to celebrating "on your nan's grave" and having people "piss on her face".
"I don't think you can find a more concise analogy. We don't want to piss on your nan's grave but that's what it means to us. It's a slap in the face," Briggs told The Huffington Post Australia last year.
A.B. Original beat other shortlisted artists including Nick Cave and The Avalanches to take out the prize, considered one of the most prestigious music awards in Australia. The win was announced at a ceremony in Melbourne on Thursday night.
Judging panel chairman Dave Faulkner, of the Hoodoo Gurus, praised the album.
"'Reclaim Australia is more than just a great Australian album, it's a cultural landmark. It's an angry, funny, heartfelt, slamming hip hop music album that takes its inspiration from '90s gangsta rap, and filters it through a modern Aboriginal perspective," he said.
"It hits hard politically, musically and emotionally and the stories A.B. Original are telling are ones we all need to hear right now."
On Facebook after the ceremony, Briggs opened up on what the win meant.
"A.B. Original are the first indigenous artists to win The AMP (Australian Music Prize) and we're proud of that. Our success represents the strength and resilience of our communities and the Indigenous artists before us who paved the way so us and many like us now can see this kind of success," he said.
At the ceremony, the group paid respect to fellow indigenous artists including Archie Roach, Kutcha Edwards and Ruby Hunter.
"All these artists paved the way for artists like us to be able to achieve this. It's because of them, they made the foundation. So I think that's what us walking up tonight and accepting this thing is going to be about."
But Briggs didn't have it all his own way on the night.....
Read our full interview with A.B. Original here.