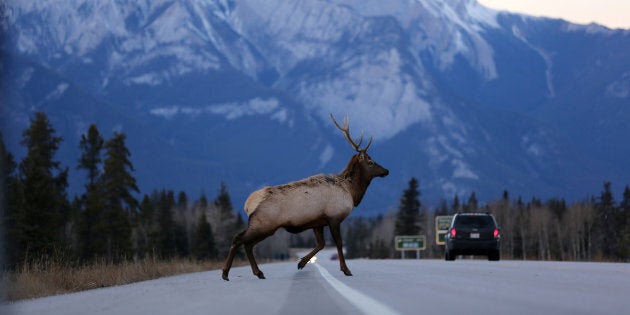 When Bill Nye 'The Science Guy' talks, his eyes light up.
Call it energy, passion, enthusiasm; whatever Nye's it is, it super powers all the lightbulbs in the room. Which is kind of a problem. We're in Jasper, Alberta -- a stunning alpine town in western Canada, for the annual Dark Sky Festival. When all the lights go out and the sky lights up. That's why we're all here. To talk about the cosmos, from the theoretical (life on Europa, Jupiter's water-laden moon) to the practical -- climate change.
"You want awareness of your place in the cosmos," Nye tells us at Jasper Municipal Library, shortly before he takes the stage to a packed crowed in Centennial Field. I could say his talk will be the highlight of my stay in Jasper -- indeed, it's awe-inspiring and his mantra, "We could change the world!" reverberates in my head for weeks after -- but that would be to understate the entire experience.
Jasper is known mostly, especially to an Australian, as a ski town. It is, to be sure, a ski town. And a beautiful one at that. In its summer months, long after the snow has thawed, it's a camping hotspot: hiking Maligne Canyon and navigating its ravines and waterfalls, absorbing the breathtaking views upon the Jasper SkyTram -- from Old Man to the outer Canadian Rockies -- not to mention a few pints at the Jasper Brewing Company after dinner... but we'll get to that later.
It's not winter nor summer but fall, when I arrive. It feels like winter, what with all the snow (yeah, you'll need to pack appropriately), but you don't feel like a shut-in. The air is cool but fresh, windless.
It's time to get with nature, as they say.
From the front porch of my room at the Fairmont Jasper Sky Lodge, I wake up to a veritable winter wonderland: snow-kissed pine trees, the piercing turquoise of Lake Beauvert, and half a dozen deer nearby. They're frolicking. Yes, frolicking. They don't seem to know it's snowing, and without the sensory wonderment of it nor would I. And that's the point.
Jasper in the fall is not a time to trek mountain peaks and look down, but instead to stop, take a breath and, look up to the sky. Without the heavy tourist traffic of peak periods and the buy-in of locals and business owners, the Dark Sky Festival finds, in the fall sky, a perfect backdrop. When you spend your time not looking down at your phone, fixed on a television or sat in front of a computer, but up towards the Great Beyond, there's a perspective shift that's in equal measure mindful and inspiring.
"We're not going to change everything (right away)," Nye says. "But as years go by if people realise we're not alone in the Universe, that would be amazing."
He wants to see life on other planets discovered within his lifetime. To Nye, that's at the root of space exploration, of what's possible, at what lies knotted within the Dark Sky. But he's not just looking up. He's looking within -- and he's asking all of us to do the same.
"There was a time everybody knew the phase of the moon, but now you don't need to because of the lights. You see all those lights, wasted energy, when you look at pictures of the Earth at night," Nye says as he pivots to his pet peeve, climate change. To call it a pet peeve may be somewhat dismissive; he takes it very, very seriously.
"It's the speed (of it) that's really hard to deal with," Nye said, adding that political inaction was the greatest barrier to a global environmental solution. On that front, he joked, that Australia should be more like New Zealand. I laugh, because behind every good joke there's a kernel of truth.
While The Science Guy's talk may be the drawcard, it's really just the springboard for a broader conversation about our place in the world (dramatic though that may sound, hearing Bill Nye talking about changing the world in Jasper can have that effect). And that's something that occupies my mind for the remainder of my time. But first, it's time for a beer, which brings us back to the Jasper Brewing Co.
And out-of-town Australian can more often than not navigate oneself to the best local watering hole, and that I did. Expecting The Town Pub, I happen instead upon craft beer mecca. Naturally, after accepting my welcome pint of Dark Sky Dark Rye Lager, I order the tasting paddle. Because research is delicious.
I note that the selection ranges from "very strong" to "light and hoppy" to "tastes like a delicious beer pie". The latter was the Blackeye Blueberry Vanilla Ale, which I think is seasonal until the manager tells me it's "here to stay". I can see why.
The following night -- after a splitting my day stealing a sleep-in, exploring the breathtaking outdoors (spotting elks roar in mating season is really, well, it's something) and keeping an eye across the American football scores -- we're treated to the Symphony Under The Stars.
Perched on the shore of the aforementioned Lake Beauvert, the Edmonton Symphony Orchestra splits the bill in halves taking us from the classic to the contemporary -- corralled by their eccentric and larger-than life conductor, Bill Eddins. Later, Eddins proudly shows me the selfie he took with Barack Obama which is now his iPhone screensaver; indeed, he's lived a full life and it shows in the performance.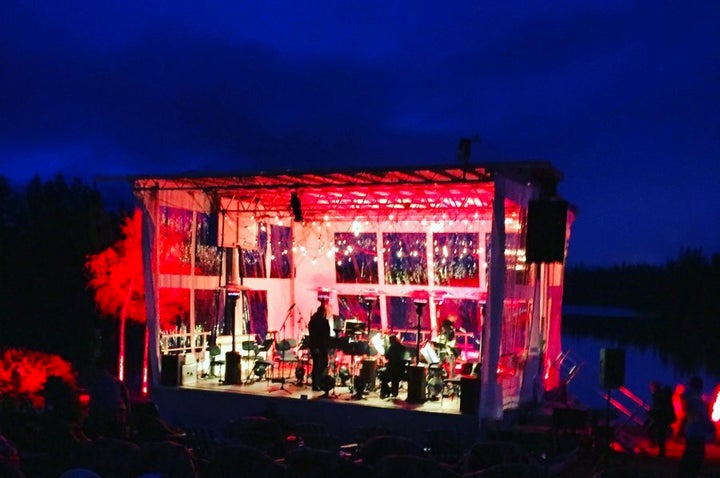 Aided by blankets, handwarmers and a warming whiskey, the show is an unforgettable treat for a musical nerd as myself; I find myself humming and tapping my hands on my leg, eyes closed, as I follow the notes under the Dark Sky.
After a round of hot chocolate and my first ever round of s'mores (and OK, sure, another local beer in the lodge bar) it's off to bed for a final night in Jasper. It's a beautiful place and there's been plenty to do, see, eat and drink, but as I drive out of town back towards Edmonton I find myself stopping every so often to look up. Even though this is daytime, I can't help but feel drawn towards something beyond what's right in front of me. Nye and Hansen struck a chord. It's part awe but also part mindfulness.
Perhaps there's something to the idea of exploring what's important to us by looking towards a place we can't see; a place we can barely contemplate. Once I'm back in the city it's harder to see the stars, let alone the Northern Lights, but I'm now reminded to take pause, look skyward, and explore the light within the dark.
ALSO ON HUFFPOST AUSTRALIA