Mornings are a perfect time to set a positive tone for the rest of the day. But that's hard when we're in a rush and mornings are a blur of shower steam, crummy coffee and a brisk breakfast.
Those extra five snoozes are undeniably tempting, but there's a few great reasons to get up earlier to extend your mornings and fit in some you-time, whether that's in the form of breakfast, exercise or a quiet moment drinking coffee in bed.
"I'm a real fan of having a routine because it helps set the day up in a really positive way," accredited practising dietitian Chloe McLeod told HuffPost Australia.
"Something as simple as making the bed or having a shower at a slower pace can work really nicely to help centre you and go into the day feeling much more calm and energised."
Beyond that day, having a set routine every morning is also great for the long-term.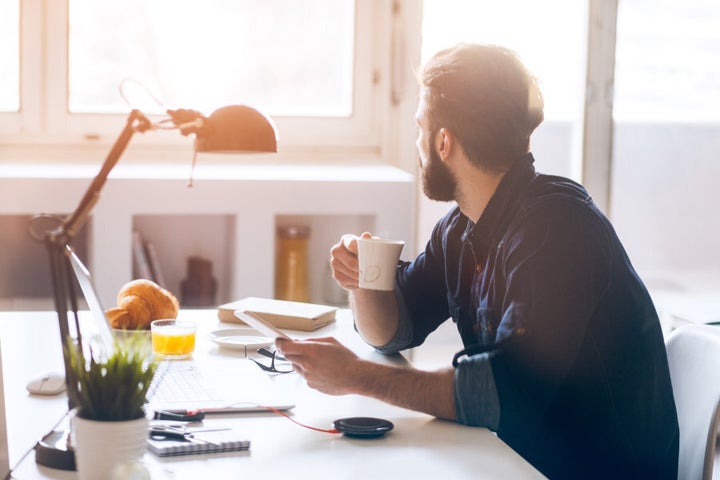 "Routines become habits, so if our daily routine incorporates habits that are good for us, it will go a long way towards helping us to feel healthier and happier," nutritionist Fiona Tuck said.
Rushing and stressing in the morning not only makes the rest of the day more challenging, but it can affect our digestion, energy and cortisol levels.
"If you start the day stressed, it often goes downhill from there. When we are under stress, we run off adrenaline and release cortisol, our stress hormone. If you use up too much cortisol in the morning, energy levels are likely to take a dive in the afternoon or make you feel depleted the next day," nutritionist Zoe Bingley-Pullin told HuffPost Australia.
When this occurs, blood flow to our digestive system is often diverted to our extremities to prepare us to 'fight or flight'. This can result in indigestion, bloating and gas.
"On top of that, when we eat fast we can miss our hunger and fullness cues, which makes it easier for us to overeat. That can then result in feeling more sluggish and tired throughout the morning," Chloe said.
"We may choose high sugar, low nutrient dense food, as most quick and easy options are not great for us. Or, we don't chew our food efficiently, impacting on our digestion," founder of Barre Attack Renee Scott said.
Ready for some morning inspiration?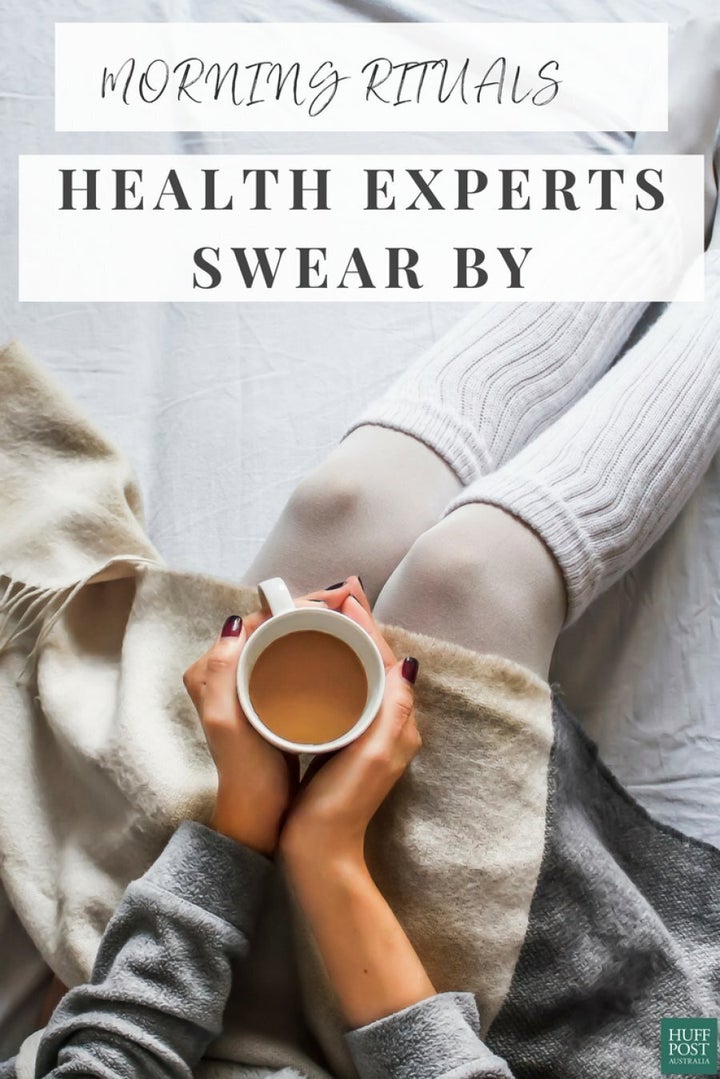 Chloe McLeod, accredited practising dietitian and sports dietitian
I always try to get up at the same or similar time each day. I think when your alarm changes from 5:30am to 7:30am that can mess up your morning rituals and sleep cycle. Having that regular waking up time, or within about half an hour, is shown to be the most beneficial.
I always feel a lot better when I get some activity in the morning. Usually throughout the week I will do yoga, a rowing class, run or walk. That's always followed by breakfast. For me, that's normally a mix of oats, fruit, nuts and yoghurt.
I always have a big glass of water before and after I exercise. I do like my coffee and that depends, again, on the day. Some mornings that will be with breakfast, other mornings I have my coffee later at around 9:30am.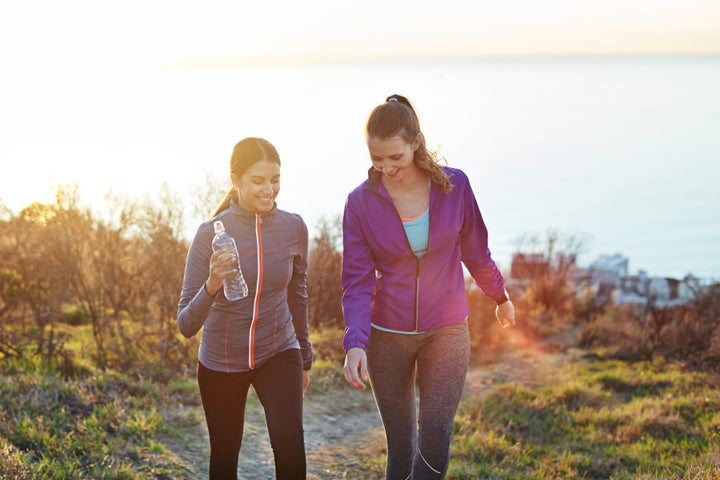 Fiona Tuck, nutritionist and yoga teacher
I always start the day with a cup of coffee in bed. I have one good quality coffee a day and have it first thing in the morning while I catch up on the news, go through emails and my diary, and get mentally prepared for my day ahead.
I then spend 20 minutes to one hour (depending on my time available) brisk walking. Usually this is on the treadmill but if I have more time I will go for a walk by the beach.
After the walk I sit down to breakfast, somewhere quiet and away from my desk and mobile phone so my focus is on the process of eating so I'm not distracted.
I always have a different breakfast each day to ensure that I include a variety of different nutrients in my diet. Breakfast may be avocado on toast with feta, a smoothie, spinach and mushroom omelette, or a green breakfast bowl full of veggies, salmon and brown rice or quinoa. I try to include good quality fats and protein at breakfast as this helps to keep me fuller for longer and I'm less likely to reach out for a snack mid-morning.
If you are rushed in the morning and don't have time to sit and eat food slowly, a smoothie can be a good alternative. Smoothies are easy to digest, nutritious and are the perfect breakfast for those that are on the go.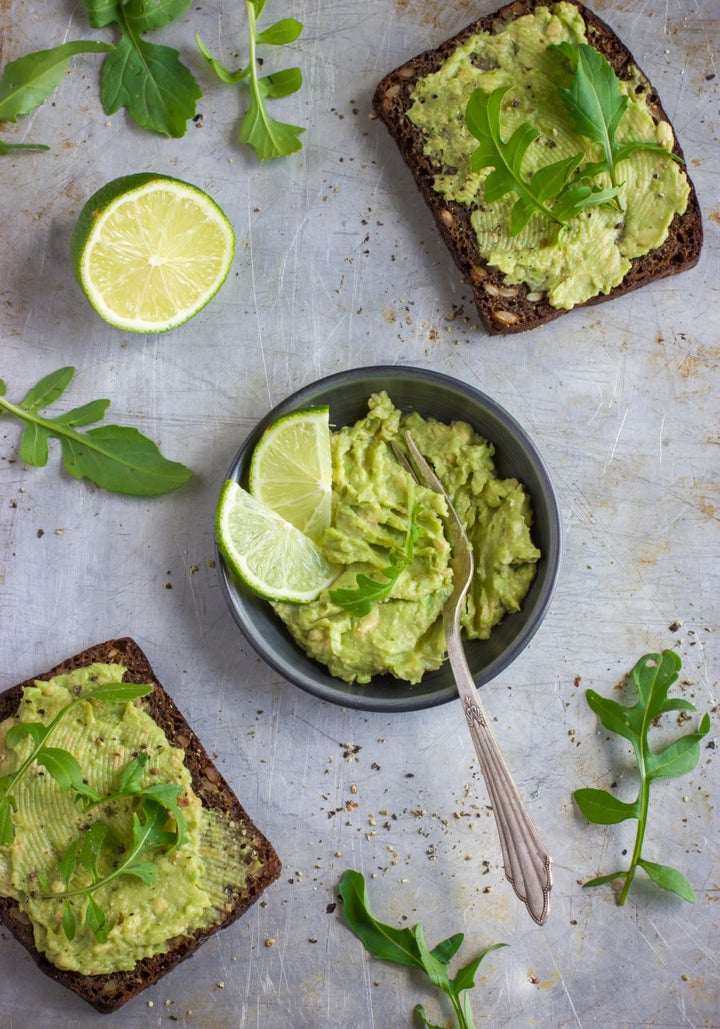 Zoe Bingley-Pullin, nutritionist and celebrity chef
As a mum I try to get the morning routine done as effectively as possible. I wake quietly to have moment of clarity before starting my day, followed by a cold pressed juice, a non-negotiable part of ritual. I may follow this with an espresso with one teaspoon of cream, my new favourite combination.
Breakfast is eaten as a family. I may make chia pudding with grated apple, hemp seeds or coconut oil to tick all the nutritional boxes. If it's a busy morning, I will make breakfast the night before and warm it up in the morning.
If my daughter goes to daycare I will take her on my electric bike, then race home for a reformer Pilates session before starting my work day. I try to do 1-2 reformer Pilates classes weekly.
Renee Scott, Pilates instructor and founder of Barre Attack
I tend to wake up at 5.30am or earlier if I'm planning to exercise. I love a hot tea in the morning to slowly wake up, and I enjoy every sip of it.
If I'm not heading to an early Pilates or barre class, I'm normally teaching one so I alternate my mornings accordingly.
I normally eat breakfast at 7.15 or 7.30am at work and, due to the environment, I have something that is healthy, easy and convenient like a boiled egg and banana, or toast with Vegemite and avocado.
I'm lucky enough to have loads of energy in the morning, it's my favourite part of the day. My best advice is wake up early and get your body moving. Then you'll have the whole day to look forward to.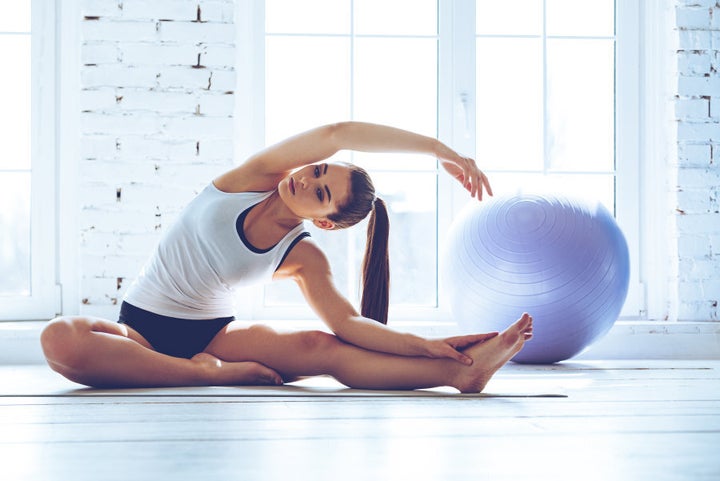 ALSO ON HUFFPOST AUSTRALIA