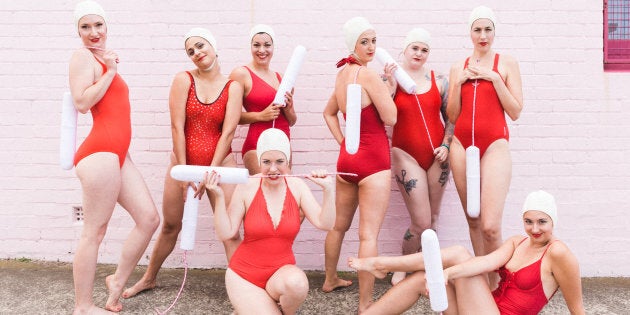 Now this isn't something you see every day.
A feminist book club-turned-water ballet squad is taking our talk about periods to a place every girl ever has been: the pool.
They're called 'The Clams' and they're bringing their debut show, 'Crimson Tides: A Period Piece' to Melbourne this month to 'clamourise' menstruation and promote gender equality.
I find the cultural notion that women are naturally in competition with each other quite destructive. I think if we're going to achieve equality, we need to work together, encourage each other and lift each other up. This project is a microcosm of that.
For founder Francis van Beek, the project somewhat started out as a joke.
"When I used to live in Auckland, I was part of a synchronised swimming group and it was such a fun thing to be part of. I moved to Melbourne six years ago and I missed it," van Beek told The Huffington Post Australia.
"It has been in the back of my mind ever since."
Last year, van Beek and her friends started up a feminist book club.
"When it came to reading books, we were actually pretty terrible. It became a matter of finding something else to to instead, and naturally, that something else became water ballet."
One thing led to another and 'The Clams' was born -- a team of 30 women who decided to first turn their gaze to promoting period acceptance.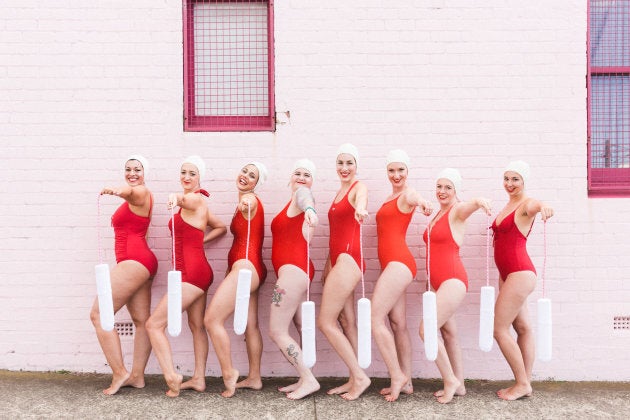 "It stuck out for all of us. We're hoping to emulate that menstruation does not need be a taboo subject. It should be something that we talk about openly," Van Beek said.
The next step is to own the period. Let's not even acknowledge that there's anything to be embarrassed about.
And open it will be. Van Beek explains the performance is a "light-hearted interpretation" of the menstrual cycle. Broken down into four stages, the routine is backed by a set from DJ Whiskey Houston, featuring a giant piece of red fabric and tampon-shaped pool floats. Genius.
Beyond the props and pool toys, Van Keep's project is adding voice to those women who are speaking out about abolishing period stigma. Like 'Suits' star, Meghan Markle.
"The fact that tampons in Australia are still seen as a luxury item and are taxed accordingly is astounding to me. They are a basic necessity," van Beek said.
And the project goes full circle. All funds raised will go towards Share The Dignity, a Queensland charity that delivers sanitary items to under-privileged women.
"Next step is to own the period. Let's not even acknowledge that there's anything to be embarassed about."
'Crimson Tides: A Period Piece' is happening on March 18 at Nortcote Acquatic & Recreation Centre in Melbourne. Book your tickets here.
ALSO ON HUFFPOST AUSTRALIA