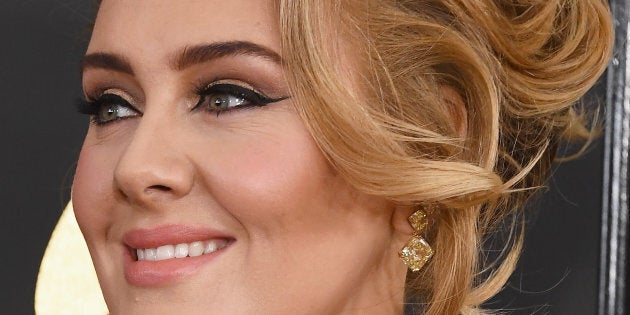 I should start with a confession: I wasn't the biggest fan of Adele.
*hides under desk while 180,000 Sydney fans hurl abuse*
Look. I think she's got an incredible voice and wicked sense of humour, but I don't have her albums or anything. Now that I've seen her live all that has changed. But up until then the thing I liked most about Adele was her flawless makeup.
You know, that winged liner.
So you can imagine when I was given the chance to interview her makeup artist who was in Australia with her on tour, I jumped.
His name is Michael Ashton, he's an internationally renowned hair and makeup artist and a brand ambassador for Marc Jacobs Beauty. He's the guy who created that iconic liquid liner flick and if you went to the concert, you'll have witnessed it expertly applied on those two sultry eyes on the big screen before they blinked open. Bet there was no pressure on that photo shoot.
On how he does that famous flick
"Obviously I have had a lot of practise at doing it. For your readers I always say that patience is key, and it's important to take your time. Even for me, as a professional makeup artist, I don't just pick up the brush and slap it on -- it's a process. The problem is that everyone is in such a hurry these days that they want to be able to do it quickly, but it takes time," Ashton said.
Right, so set aside half an hour and do this:
"My trick is product cocktailing, so I'll use a really fine pencil liner first and I use that super fine tip to etch the shape out initially, and then go back in with the liquid liner on top.
"I take the pen and I start in the middle of the eye at the lash line and work in small strokes toward the outer corner where the lash line finishes, then I do the inner corner of the eye and bring it in a little toward the bridge of the nose. Last, I do the flick at the end -- dragging out and upwards at a 45 degree angle.
"If you make any mistakes, I use these little MUJI cotton tips as they are very fine. I dip them in micellar cleansing water, or even just regular water, and then drag that up and out to clean up and get a crisp line, because as you drag it you get a tiny pull on that liner which gives it that nice finish. You need a pen with a superfine tip for precision, but if you press it down harder you'll get a thicker line," Ashton said.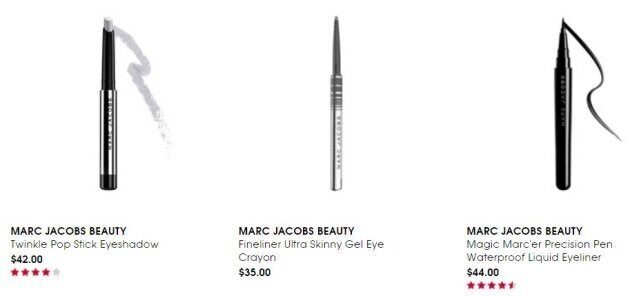 On creating a long wearing but natural looking base
Want your foundation to last all day but not look like a heavy mask? Yeah, me too.
"For women at home, to get longevity out of their base, it's all about prepping the skin properly to begin with. We give advice like cleanse twice and do all the steps, but realistically, women don't have time," Ashton said.
"So, when you're in a hurry, mix your primer with your long wear foundation and custom blend the level of coverage you want with the two products, then either buff it into the skin for more opaque coverage with a buffing brush in a circular motion, or if you have quite good skin, mix a few drops of each products and warm it up in your hands, then massage into the skin like as if you were doing your moisturiser.
"Then, pop a little drop of foundation on the back of your hand and use your middle and ring finger to go over that layer and pat on a little extra coverage where you might need it, usually around the nose, cheeks and chin," Ashton said.
On deciding when to powder
Setting your base is important, especially if you have oily skin, but you don't want the powder to erase all the glow.
"I powder where needed, and I decide which brush to use for powdering depending on how much is needed," Ashton said.
"I use a translucent powder which isn't going to change the colour of the base I have created, so all it will do is reduce the shine. Often people will use a very dense brush and then feel like their look is too powdery. Use a dense brush with firm bristles if you need more powder, but if you just need a little, use a fatter, fluffier, more open bronzer brush. It really is about having the right product but also the right tools."
On creating a statement red lip
"It's important to get the right red when choosing a red lipstick. One thing I've noticed is that if it's not the right shade for someone's skin tone it can tend to make the teeth look a little yellow. If you have a more olive skin tone, you're better off with an orange based red, and if you're fair and you have a blue-pink undertone, go for a classic fire engine true red," Ashton said.
"With regards to lip liner, I do use it but it will depend on the look I'm going for. I always put the bulk of the colour straight from the bullet onto the middle of the lip, then smudge it out, then go in with the lip liner last. Doing the liner first is probably better if you want it to last longer, but by putting the lip colour on first and blotting, the lipstick naturally deposits to the shape of your lips, then you can lightly trace with lip liner only on the edges where needed to finish, whereas starting with liner first you're more guessing the shape. If you want slightly fuller lips, use the liner to trace the middle bottom lip edge, but don't overdraw the entire bottom lip line. This will look more natural."
On the controversial trending of contouring
"Contouring has been around for a very long time. I learned how to do makeup from Kevyn Aucoin's book Making Faces, and I think Kevyn was the first person I know of to put it in writing. Mario brought it back in a big way in his work with Kim, but I am sure it was around way before all of this," Ashton said.
As for whether he's a fan, the answer is yes -- but only when it's appropriate.
"It's a technique that really works in the right situation, like the red carpet or on stage, but for me in real life it's not my favorite thing to look at. Reason being, it's not necessary. If you don't use your foundation to create a flat, one dimensional mask, you don't need to heavily contour.
"Keep your base light, then just use a bronzer on the cheeks, down the neck and the edges of the face -- that's a way of adding dimension to the face that looks natural without having to contour. Then use a highlighter on the high planes. I use highlighter after bronzer because the other way around, using a cream then a powdered bronzer on top, might make the cream go muddy. So there's ways of creating dimension to the face without contouring."
On making eye makeup really last
Ever do liner on your upper lashes only to have it transfer to your lid by lunchtime?
"One thing I do see a lot of is women who have applied eyeshadow is that it creases due to oily lids. If you're putting shadow on top of an oily eyelid it's only going to grab and slide. It's all about priming the eyelid first, especially if you know you have an oily lid.
"When doing your base, use a tiny bit of foundation across the lid, too. Then, get your setting powder and dust that quickly and you've prepped your eyelid. Or, use a cream shadow in a matte shade as a base, work it into the lid, then smudge a powder shadow on top. It's so nice to buff a gold shimmery shadow on top as it will catch the light, and the shadow is setting the cream base. Again, it's about product cocktailing," Ashton said.
ALSO ON HUFFPOST AUSTRALIA