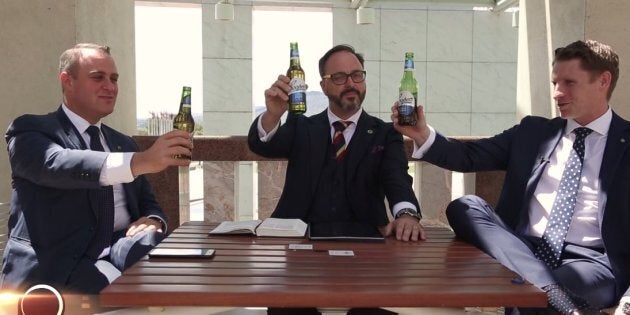 Just after we thought we had seen everything.
This week saw Elon Musk inject himself into Aussie energy politics and Malcolm Turnbull sunk beers with The Betoota Advocate. So, why shouldn't we have seen this coming?
Liberal MPs Andrew Hastie and Tim Wilson have appeared in a video sponsored by Coopers Brewery and The Bible Society to debate marriage equality.
Yep. This actually happened.
The video starts with host Matt Andrews: "Keeping it Light, a place where we can have a light discussion about a very heavy topic."
Yeah, no kidding it's a "heavy topic". Thanks for clarifying Matt.
"And this is all thanks to The Bible Society, who have been keeping it light for over 200 years."
Boy, aren't we lucky to have Coopers Brewery and The Bible Society to help up dissect the nuances of equal marriage rights.
The idea is that two colleagues on either side of the debate share their points of view. Andrew Hastie and Tim Wilson are the featured politicians. Hastie, a heterosexual conservative Christian, is not keen on same sex marriage. Wilson, an openly gay agnostic, is all for equal marriage rights.
They share their views and the host then turns the table and asks each person to explain the other persons perspective.
The video doesn't appear to be pushing an agenda on same sex marriage but demonstrating how two people with opposing views can have a measured discussion without ensuing chaos...like during Question Time in parliament, for example.
"Australia's national conversation has become fraught with shallowness and contempt for those who have a differing opinion," The Bible Society's website says.
"'Keeping it Light' puts two people together who would normally disagree. And shows how the Bible can help us all listen to each other. From yelling matches on ABC's Q&A to screed on Twitter, we just don't seem to be able to talk anymore. And the more important the topic, the less we actually hear each other."
They seem to be particularly unimpressed with ABC's Q&A.
"Would Q&A be better if it began with a read of the Epistles of James?" Matt said.
"I think anything would make Q&A better," Wilson replied.
Coopers Brewery has also produced 10,000 cases of limited edition Premium Light beer featuring a happy birthday message to the Bible Society from Coopers and Bible verses on the carton packaging.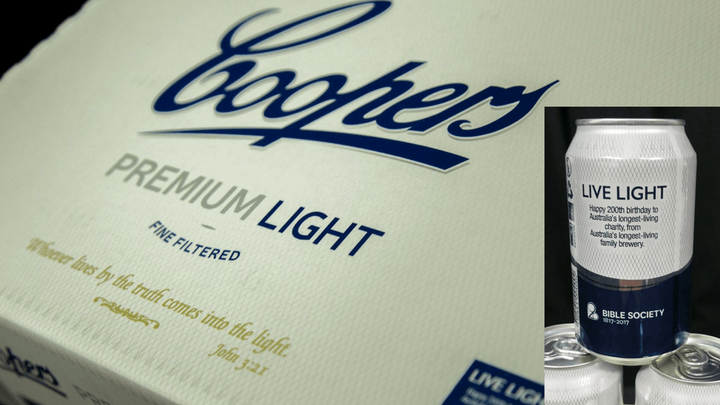 Fairfax Media report the brewing company and the Bible Society have a long shared history.
"Part and parcel of doing a good job is reflecting on the gifts that we have and using them to God's best purpose," he said.
The LGBTIQ community is alarmed that you sponsor the Bible Society, opposed to marriage equality @coopersbrewery. Do you oppose equality?

— Michael Barnett (@mikeybear) March 11, 2017
But, many on Twitter weren't buying it. Nor Coopers' beer anymore, it seemed.
Coopers has released a statement defending the video as "a light hearted but balanced debate about an important topic within Australia".
"Coopers have released commemorative cans of Premium Light beer to celebrate The Bible Society's 200th anniversary. In doing so, we aren't trying to push a religious message, we see these commemorative cans as a celebration of the Bible Society's 200 years of charitable work in Australia."
The company also added in a second statement released late on Sunday night that it had not given permission for its "Premium Light beer to feature in, or 'sponsor' the Bible Society's 'Keeping it Light' video featuring Andrew Hastie and Tim Wilson."
"We respect the beliefs of our community and do not wish to try and change them. Our family brewery is made up of individuals from a number of different backgrounds, all of whom hold differing views on politics and religion, which we think is reflective of the wider community."
"We would like all Coopers fans to know that we support and embrace all of our beer drinking community."
ALSO ON HUFFPOST AUSTRALIA