There are dogs, and then there are good dogs, and then there are Very Good Dogs. Louie, a drug and cash detection dog with the Federal Police, falls into the latter category, and he's getting some much-deserved recognition for his work with a historic award today.
At a ceremony in Brisbane on Tuesday, Louie was presented with the first ever Certificate of Commendation for service by none other than federal Minister for Justice, Michael Keenan. Louie is part of the AFP's crack team of Very Good Dogs, and helps stop drugs and illegal cash coming into Australia.
"Louie is one of the AFP's first and most successful canines, having prevented nearly $20million dollars' worth of drugs from hitting our streets and seizing almost $2.5 million in cash," Keenan said in a statement.
Louie, wearing a lovely yellow jacket, got his award on Tuesday morning at Brisbane airport's canine facility. Keenan congratulated Louie on "his great career of service" and presented him with a lovely new collar.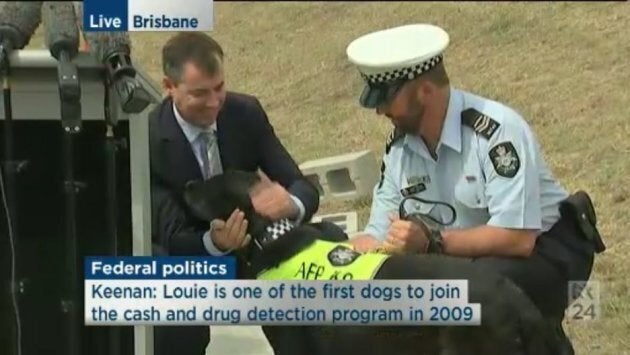 "Louie is one of the first dogs that joined cash and drug detection program in 2009 and he spent eight years protecting Brisbane Airport. In his career, Louie has prevented an enormous number of contraband from being transported around the country," Keenan said.
"These canines are expertly trained to detect cash, guns, drugs and to detect explosives. Their sense of smell is so acute they could detect the equivalent of one drop of a substance within a swimming pool."
" Louie, thank you very much for your successful career and thanks to your handler, senior constable Steve Shackle who has been with Louie throughout his career. I am pleased you are the first member of our AFP team to receive this commendation... Thanks Louie for your years of service to the Australian Federal Police."
It wasn't all dogs and awards though. Keenan also talked about the haul of drugs and cash seized at Australian airports last year. New figures show that more than 300 kilograms of drugs, 430 weapons and more than $1 million in cash was seized at airports last year.
"The 430 weapons are the greatest haul of weapons in four years. This includes 100 guns and related articles which is almost double the amount of guns that we seized in 2015," Keenan said.
"For the first time in the past four years, we received over $1 million worth of cash which far exceeds the cash we received in the previous four years. These statistics show how successful our AFP dogs at our airports, working in conjunction with the AFP teams there are."
ALSO ON HUFFPOST AUSTRALIA